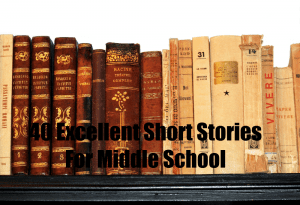 Middle school is a funny place. Students can be mature and insightful one minute, obtuse and petulant the next. Yet even the most resistant scholar will enjoy a good story. The 40 stories below are sometimes surprising, other times hair-raising. They are all guaranteed to raise questions and instigate discussions in your classroom that can lead to meaningful dialogues about what really matters in the lives of your students.
BONUS!
The Stone by Lloyd Alexander
2 B R 0 2 B by Kurt Vonnegut | Audio Recording
Copyright notice: These stories are published on sites other than MrsWatersEnglish.com and NONE of them are excerpted or quoted in MWE-created materials. Some stories are in the public domain (not copyrighted), or are excerpts of larger works, while others are not. In some cases, teachers may print a class set for their own classroom usage, but there are exceptions. Please check with your district regarding its policies and licenses for reproducing printed copies. Generally speaking, you may ask students to download their own copies (outside of the one you download for your own use) to their devices for their own educational studies.