Google Classroom and Canvas friendly!
Save time finding resources to positively impact your students' learning!
An entire year of short story resources have been curated for you! Who needs new textbooks? Not you! With our All Access Pass, you have links to PDF and/or DOC files of the short stories you need for your students. Even better — no more hunting for videos or audios to keep students engaged. We have curated these resources for you and included them in an easy to access page on our website. Just log in to your account and download the resources you need to your computer, upload them to your school's private course management system or display on your classroom interactive whiteboard.  
Note: This membership  is for our curated resources ONLY, which may include printable short story texts, videos, audios, and additional related texts from outside sources. It  DOES NOT include lesson plans created by RTE or our partners.
Engage students with high-interest video adaptations

Explore printed or digital copies of the short story texts: Great for annotations!

Evaluate related essential questions

Differentiate with audio students can listen to as they follow the text

Define difficult vocabulary words with Quizlet flashcards
Extend student learning with paired nonfiction texts

Captivate students with related novel suggestions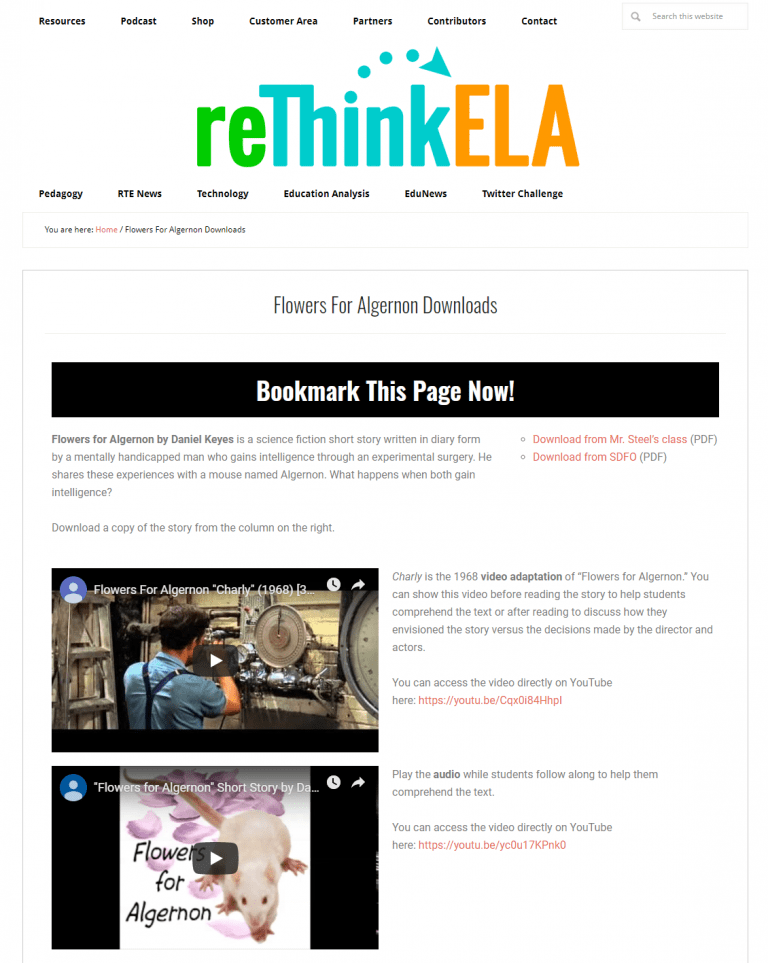 We know our students have been raised in a visual society. Many of them are self-proclaimed haters of reading. But they all love a good story. 
With the video adaptations we've found, you can engage them with the story first and then dive into the text.
Or, if your students are already engaged, they can read the text first and then compare and contrast their interpretations to that of the director.
Digital Copies You Can Print
Students often fill more comfortable with a printed copy and a pen or pencil in their hands. They can annotate in the margins of the texts as they read.
Or, if printing is at a premium in your school, you can upload PDF or DOC files of the stories to your classroom course management system so students can read them online. They can even annotate the PDF files in Kami using Google Drive.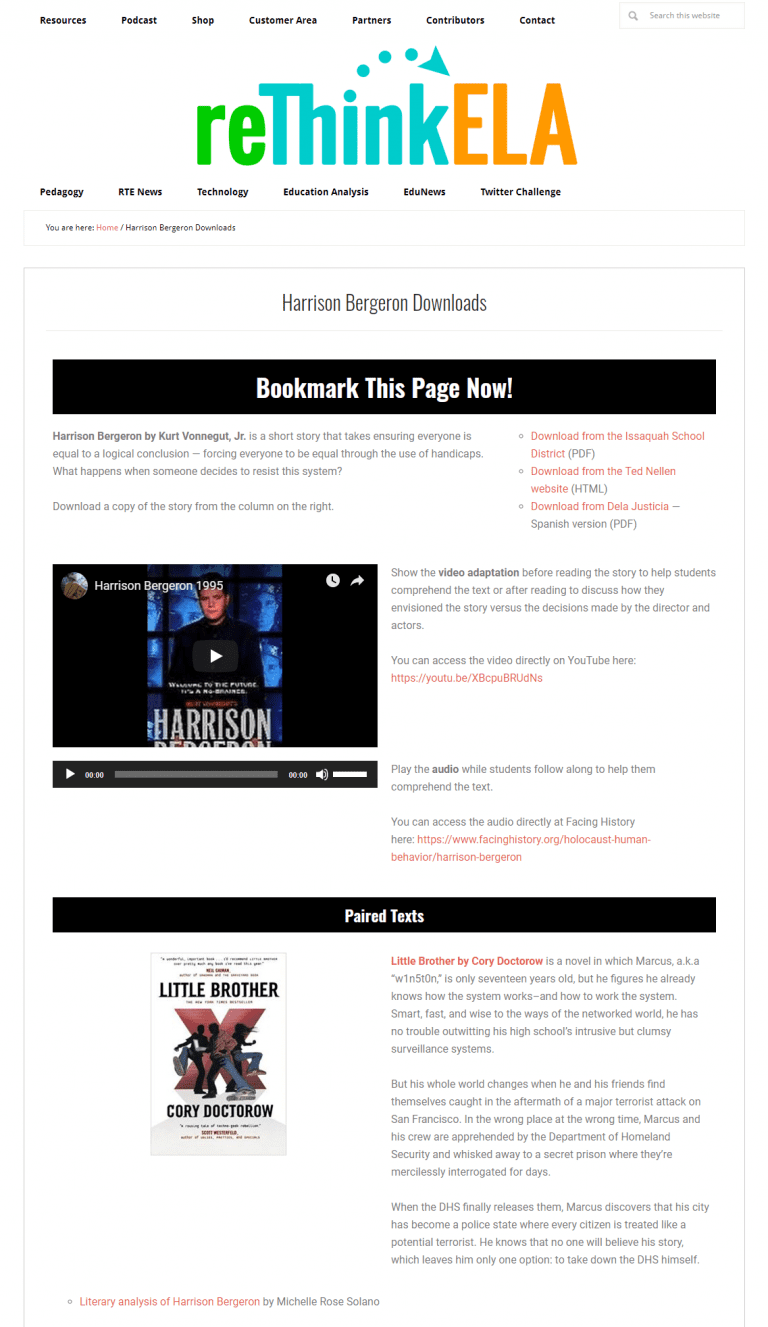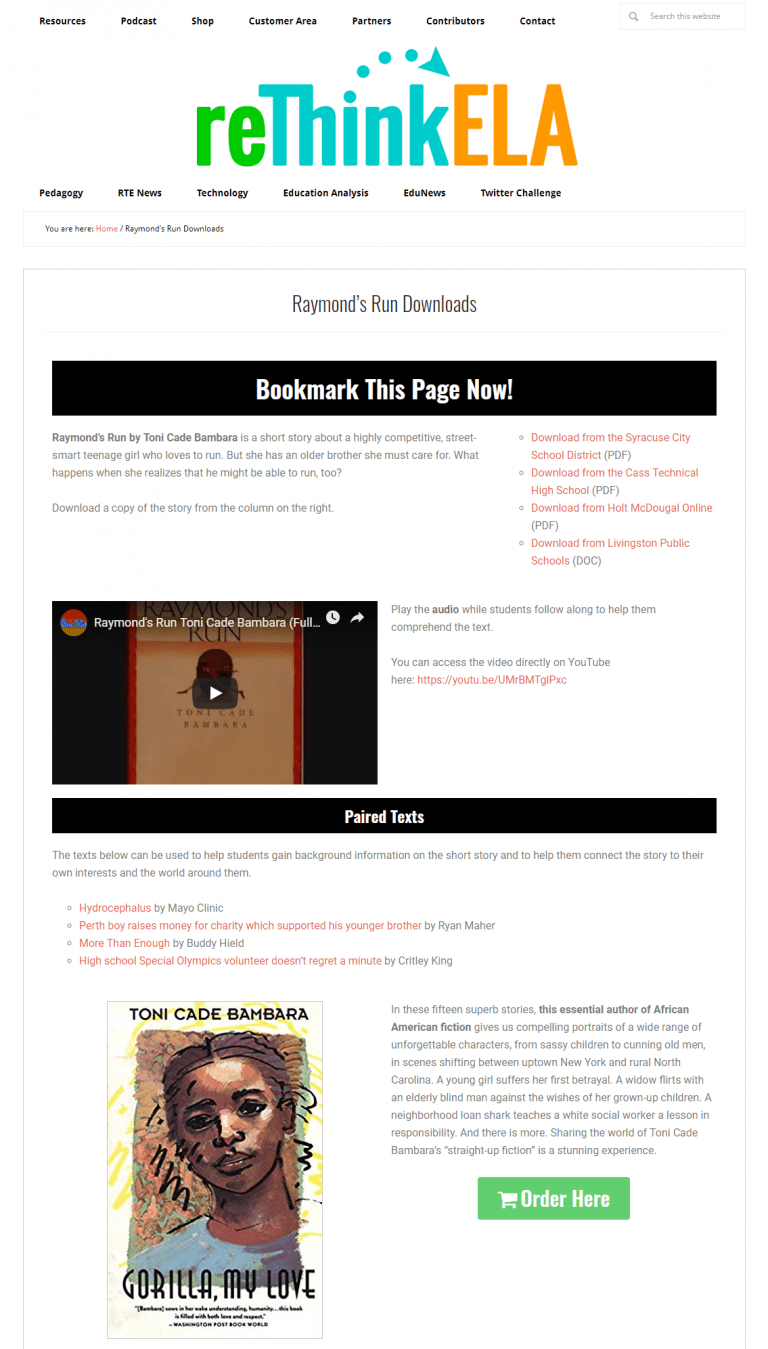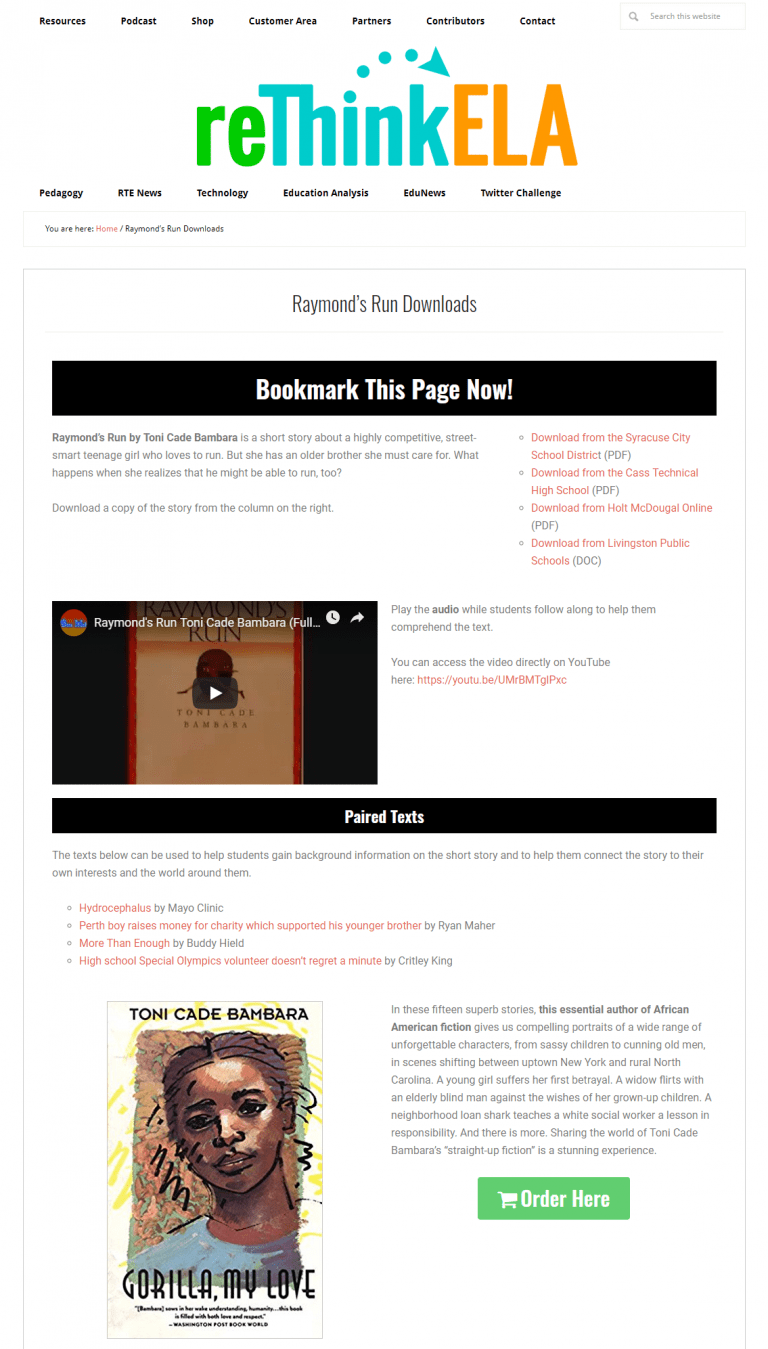 Not only have we read all the short stories we're recommending, we have developed or curated essential questions to help your students start thinking critically about the story and its meaning in their own lives. 
If you'd like to receive emailed essential questions, vocabulary practice recommendations, and additional teaching resources, just click the link on the page for the short story you're teaching.
When you receive your first All Access membership email, just click on the links to the short stories for which you'd like additional resources and we'll send those right out! As we add more resources, we'll email those to you, as well.
Some students struggle with reading, whether it's decoding the words on the page or comprehending the text. To help support them and provide a resource for differentiation, I have curated audio versions of the texts.  
Students can listen with headphones, or you can play the audio adaptation to the whole class as they follow along in the text you've printed or provided in their course management system.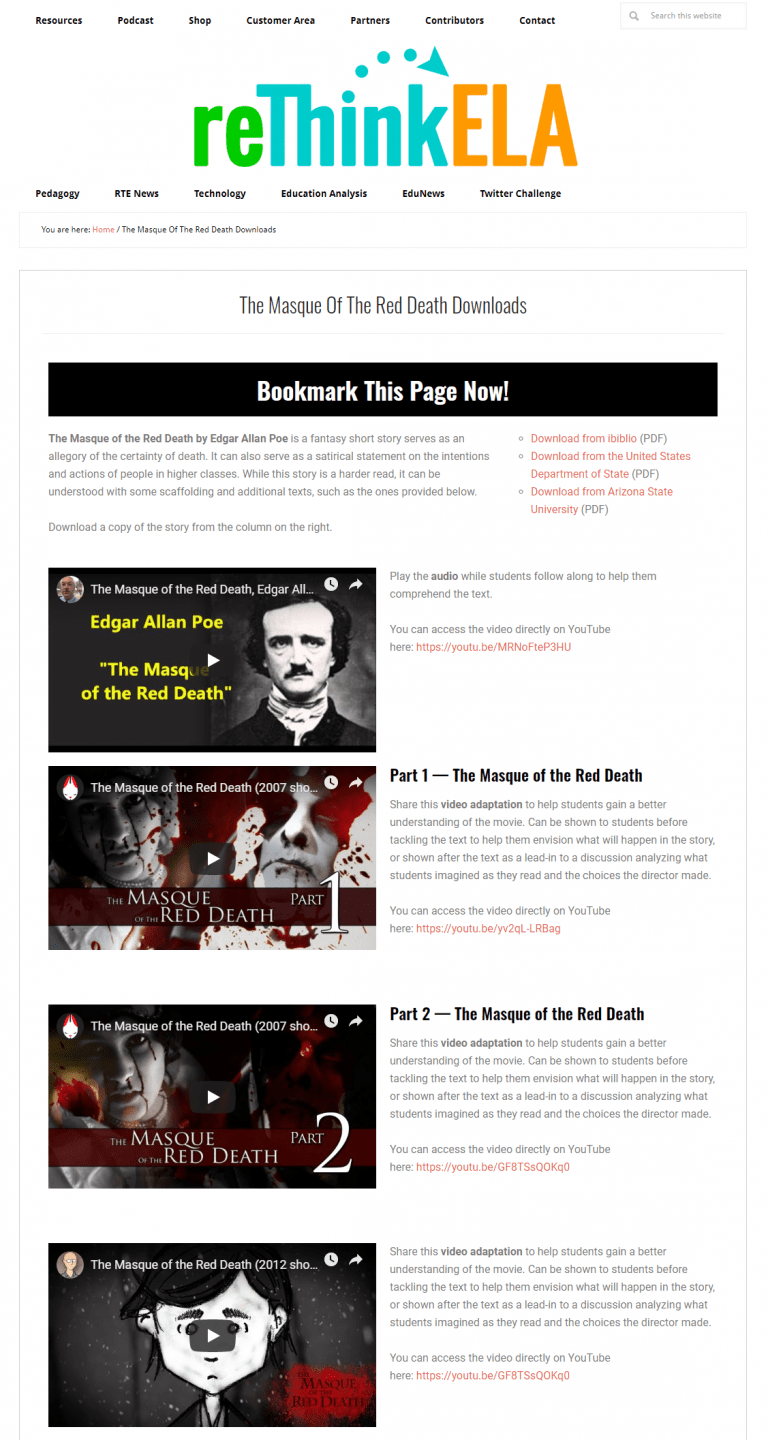 You have the option, as part of your membership, to opt into additional included resources that are specific to each story.
Once you've purchased your membership, you'll receive a welcome email that includes a list of stories with added resources such as the essential questions and more. Those emails may include the following items, plus more as we find additional resources.
Vocabulary lists
Nonfiction text
Novel suggestions
NOTE: We'll also recommend RTE created products which you can purchase in our shop or from the links below.
Are you ready for bolt-into-your-existing-curriculum resources that will save you time and keep your students reading all year long?
Note: This membership  is for our curated resources ONLY, which may include printable short story texts, videos, audios, and additional related texts from outside sources. It  DOES NOT include lesson plans created by RTE or our partners.
Just $3 per month. 
Or get 2 months free your first year with a $30 annual plan.
Cancel any time!

Most frequent questions and answers
Once you've placed your order, make sure you login to your account by clicking the Customer area link at the bottom of the page after you order and entering the login information you created. Click the "All Curated Short Story Access Membership" link in your customer area.
Once you login, your short story list and downloads page will look like this.
Unlike physical products such as books or office supplies, our products are delivered to you digitally. Once you've downloaded our products, which may include PDFs, PowerPoint files, images, and access to our members areas, you can't return them. For this reason, all reThink ELA LLC sales are considered final and nonrefundable.
That said, we understand that sometimes circumstances are out of our control and a refund may be in order on a limited, case-by-case basis. We will consider requests that fall into these categories within seven days of purchase:
Duplicate purchase — You order the same product twice.
You order our All Access Membership and then accidentally order the same item again. Or you order a bundle and then realize that you already had one of the products in the bundle.
No File Download — You have not downloaded the files (which we will verify).
You order a grammar unit for 6th grade, but discover that you're moving to a new school over the summer and will be teaching 5th grade.
If you experience any of the following issues, we will be happy to work with you to solve the problem.
Issue with resource files — If one or more of our files are damaged, we will repair the file and send you a new one.
You download a PDF file and it is corrupted.
Faulty description — We go out of our way to ensure that we describe exactly what you will receive and show you previews of what we provide.
You discover that we stated you would receive a PDF download for a short story, but there are none for the story you need. We will find and deliver the PDF file we promised.
Subscription cancellations — If you have purchased a product that includes a subscription, but realize you do not need the subscription any more, you can cancel it at any time. You will continue to have access to your customer area and files until the subscription expires.
You purchase the All Access Membership last month, but discovered yesterday that you'll be teaching math instead of English.
If you need a subscription cancellation, or believe your refund request falls into one of the areas listed above, or you need help making use of your resources, please login to your customer area and let us know what product you purchased and a description of your concerns.
NOTE: If you subscribed using Paypal, you can login to their website and cancel your subscription. Paypal will automatically notify us.
You're welcome to sign up for each of our short story resources for free right here on our 40 Excellent Short Stories page. Just enter your email address on the optin page for each short story for which you need resources.
Would you like a free All Access Pass? Or extra money in your pocket? Consider becoming an RTE partner and recommend our resources to your colleagues.