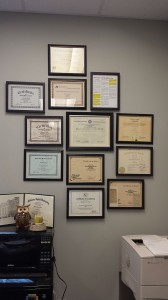 When I was a child, my parents taught me that it is not nice to brag, and I allowed this belief to carry over into my teaching during my first year.
That was a mistake.
While it may be true that one shouldn't spend an inordinate amount of time bragging in social company, a teacher absolutely must sell their own value and accomplishments in the classroom, and most importantly, tie those into how the teacher will help students achieve their dreams.
During that first year of teaching, students complained about the amount of writing I asked them to do, and did not seem to be impressed when I explained that they needed to practice writing in order to become adept at it. This could have just been because they were 16-year-olds.
It is also possible that students are just not inclined these days to assume their teachers know what they're talking about just because the teacher has a teaching job. (This is an excellent example of critical thinking, if a bit annoying…)
Unlike many students today, I grew up assuming my teachers had the necessary content knowledge and life experiences to prepare me for college and life, so I wasn't prepared for the push-back from my students. I struggled through my first year, and then the first half of my second year.
That second year though, my co-teacher discovered my framed writing awards in a box under my table as we were cleaning and organizing. She immediately told me I needed to hang them on the wall behind my desk so the students would see them when they are looking at me.
I was skeptical, but I knew that with 35+ years of experience, my co-teacher's perspective was invaluable. So I spent a weekend hanging up the awards I'd won in a previous career as a high school, collegiate, and professional newspaper reporter and editor.
Bright and early Monday morning, my students were intrigued. I told them about each award, including the writing awards, the scholarships, and the Academic All-State Finalist award.
During fifth hour that day, one kid raised his hand in the middle of our discussion. I called on him, and he pondered my award display for a minute.
"You know, Mrs. Waters," he said. "It's nice to know I have a smart teacher."
This was an "aha!" moment for me. Or perhaps, a "Duh!" moment.
This student — and many others — needed evidence of my credibility. If I'm going to ask them to write a 500 word essay, or a two-line couplet, they need to know that I have a real-world, life-tested reason for asking them to do this. Just telling them that I do isn't enough. They need to know that I'm not just devising random ways to torture them.
My advice
If you have awards, newspaper stories about yourself, or other printed accomplishments, show them off! They kids will be impressed that you were able to accomplish so much, and that you're willing to spend time with them, helping them learn how to reach their goals.
Share your stories! Students love hearing stories, and they'll drop everything and listen when they know you're about to share an interesting one. Not only does telling stories about how you reached your dream build your credibility, but it will also help you build a relationship with your class.
Not to mention, students will have a much-needed opportunity to practice their listening skills.
If you have any experiences with building credibility in your classroom, please share.