Oklahoma Educators (Including Me!) In The News
Oklahoma Gazette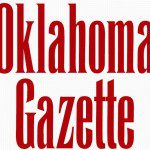 January 15
Chats, blogs and a hashtag unite teachers across Oklahoma
"Prior to discovering #oklaed, I could only rely on the expertise, willingness to share and time constraints of the teachers in my building for that information and understanding," said Michelle Waters, a language arts teacher at Little Axe Middle School who has also helped create the annual educator's media guide.
---
Want To Interview Me?
I am looking for opportunities to share the great things that are happening in my English classroom and in Oklahoma education. You can interview me by phone or email. If you call me during school hours, please leave me a detailed message. I'll be happy to return the contact after school.
Contact Information
Telephone: 405-806-0452
eMail: support@www.rethinkela.com