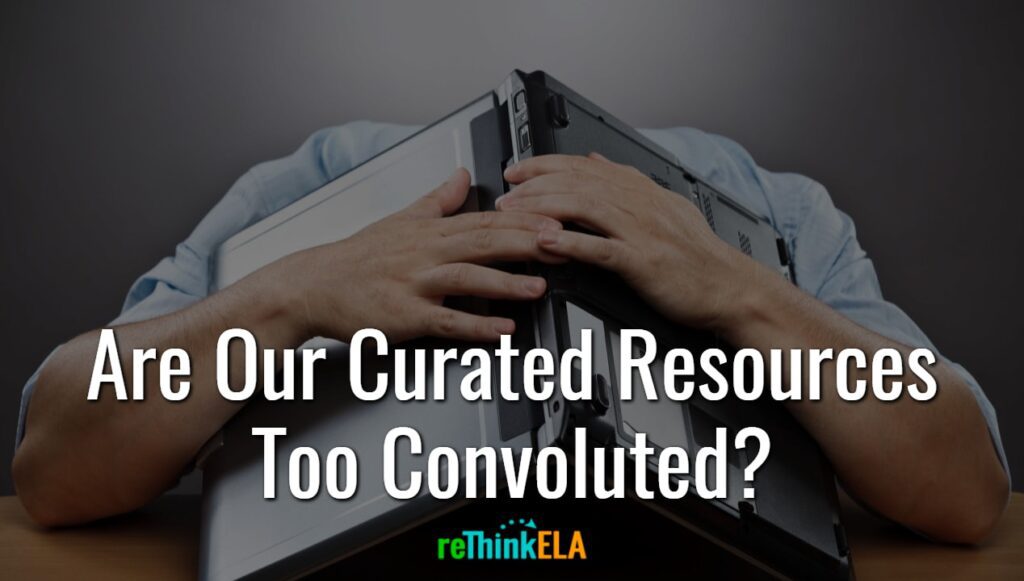 Whenever I receive a complaint (which, fortunately is rare), I always search for the grain of truth inside. Sometimes, this isn't hard because the teacher really is trying to use my resources, is understandably frustrated, and just needs my help. Other times, that kernel is a little harder to dig out from under layers of snark, learned helplessness, and/or condescension. But I dig anyway, and that's what happened yesterday.
I received the following message from a subscriber to my Raymond's Run free curated resources. Keep in mind, curated means that I have spent hours scouring the Internet looking for resources to teach the short story and then either organized them onto a page of my website myself or hired a virtual assistant to do so.

I understand that we're all stressed out right now and that if something is new, it can seem confusing. And frustrating. And I know it can be really easy to dash off a reply to the access email we received and forget that there is a human being on the other end.
That said, it occurred to me that if she is confused by resources I've curated and the way I've organized them on the page, there are probably other people who are equally confused, if not more so. And that is especially true during this global crisis when so many teachers are having to suddenly switch to distance learning using platforms they might never have used before like Google Classroom or Canvas.
So I decided to write a guide to using the curated resources, which are all organized the same way. You can find a list of them in my "40 Excellent Short Stories" post and you can subscribe to the resources individually for free there.
Once you've subscribed, you'll be able to login to your RTE account and view the download page for that short story. In the image below, you can view how the Raymond's Run curated resources are arranged, which is very similar to my other short story curated resources pages.
PDF/HTML/DOC Files
On each of our curated resources download pages, we include PDF and/or HTML or DOC (Word) versions of the short stories that we have curated from other websites — mostly schools. Think of this section like a museum that has virtually linked to a collection of artwork that is housed elsewhere with credit being given where it is due.
We always make sure we include links to two or three PDF files because sometimes those resources sometimes disappear from the school websites where they're housed. We do receive automated notifications when this happens if the link is broken instead of redirected to the main school website. But since we don't always receive that notification, we rely on our subscribers to notify us. So, if you're a subscriber and you notice a link in our resources is broken, please let us know by replying to your subscriber email, filling out the contact form, or submitting a ticket to the helpdesk. We'll then curate new resources.
All that said, I have updated the links and the audiobook on the Raymond's Run page, so they all work now.
TpT Products
While we do offer some of our products for sale in our store on TpT, none of what we offer on the Raymond's Run page is available on that site. We do promote a related unit that we created in partnership with one of our writers, but it is optional and only available for sale on our website. The unit is a great option if you want to extend the reading of this short story into a three-week long independent writing project. (The project is Google Classroom and distance learning friendly, does not have to be taught in order, can be broken up into smaller pieces, and shortened, as needed.)
Non-Fiction Paired Texts
I have also researched and curated links to related non-fiction (paired) texts that students can read to provide background knowledge for the story or increase their understanding of issues raised in the story.
Novel Recommendations
For some short stories, I've also recommended a relevant novel by the same or a similar author that you can suggest to your students and/or request for your school.
What I offer
I do realize I've thrown quite a lot at teachers, especially when you consider I've curated resources for more than 40 short stories over the course of six years. For that reason, I've created a membership for teachers who want access to everything all in one place, along with additional resources. The membership includes a student-centered lesson plan that works for any of the short story resources and helps teachers present their units in a way that will engage students in independent work over the course of 4+ days.
I've also included Lexile and reading grade level information and a calendar of suggested short stories for the entire year in the membership. You can learn more at on our All Access Curated Membership page.
Of course, since that membership includes resources I've created myself, I do charge for it. I know teachers don't make a lot of money, so I've provided a couple of options and they're very affordable.
We do recognize that teacher's situations change frequently, so you're welcome to cancel at any time. If you subscribe via Paypal, you can just login to their website and cancel your subscription directly. If you'd like to learn more, take a look at our membership page here.