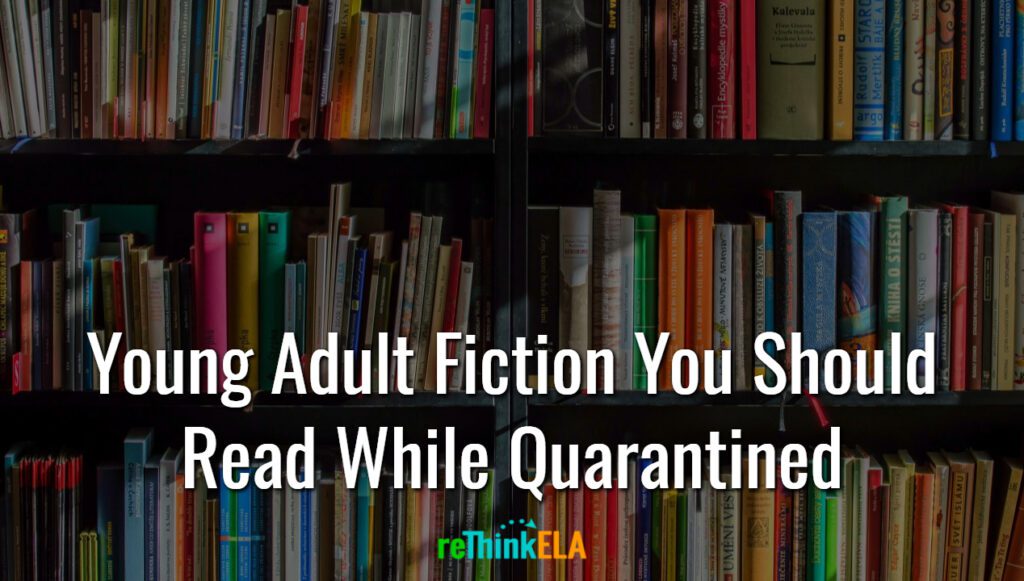 As an only child for the first five years of my life and then the oldest sister to two siblings who weren't exactly interested in the same things I was, I learned very quickly how to entertain myself. And as soon as I learned to read, I quickly realized that books would save me from the sheer boredom of being stuck at home.
As my household is practicing social distancing, I'm working on writing a short story and the first couple of chapters of a young adult novel for my YA Fiction Writing class (which is now moving online) at the University of Oklahoma, curating remote learning resources for my colleagues, and preparing my own resources for my students if my state (Oklahoma) moves to distance learning after April 6.
What I am enjoying though, is extra time to read. Yes, I am required to read some YA novels for my writing class, and I've enjoyed a few of those books. But I also have read some great YA books for my Teaching Literature and Literature for Adolescents and Young Adults classes, and my students have also recommended some of these books.
I figured you might be in the same boat I am, so I'm sharing my list of recommendations. Feel free to add your own in the comments below.
Note: This is a book that one of my students told me I had to read. So, of course, I did, and it changed my life.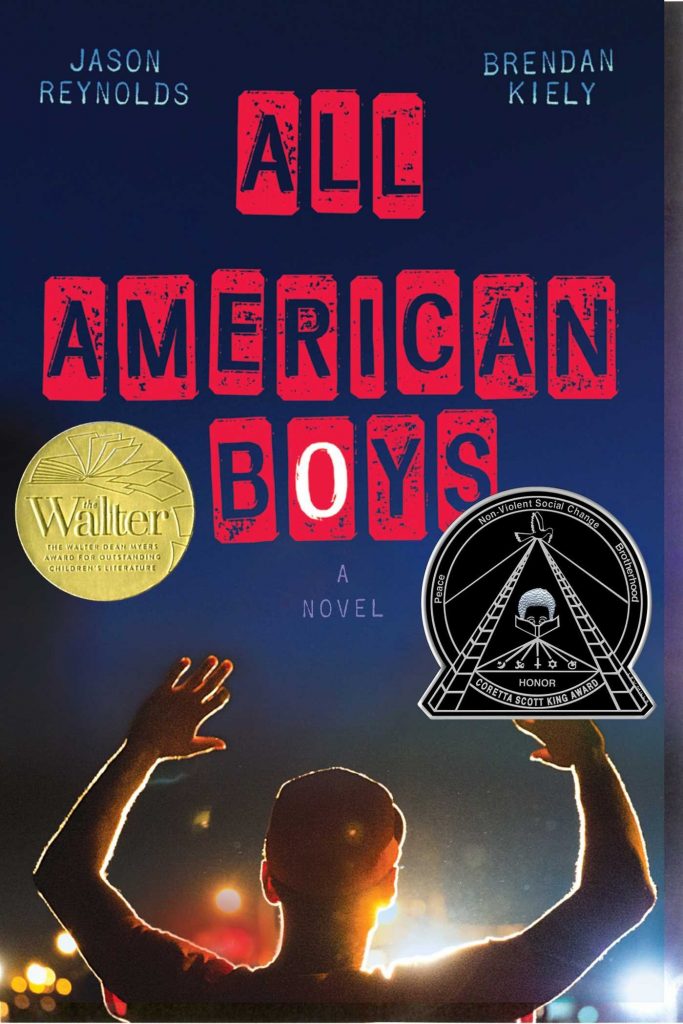 In an unforgettable new novel from award-winning authors Jason Reynolds and Brendan Kiely, two teens—one black, one white—grapple with the repercussions of a single violent act that leaves their school, their community, and, ultimately, the country bitterly divided by racial tension.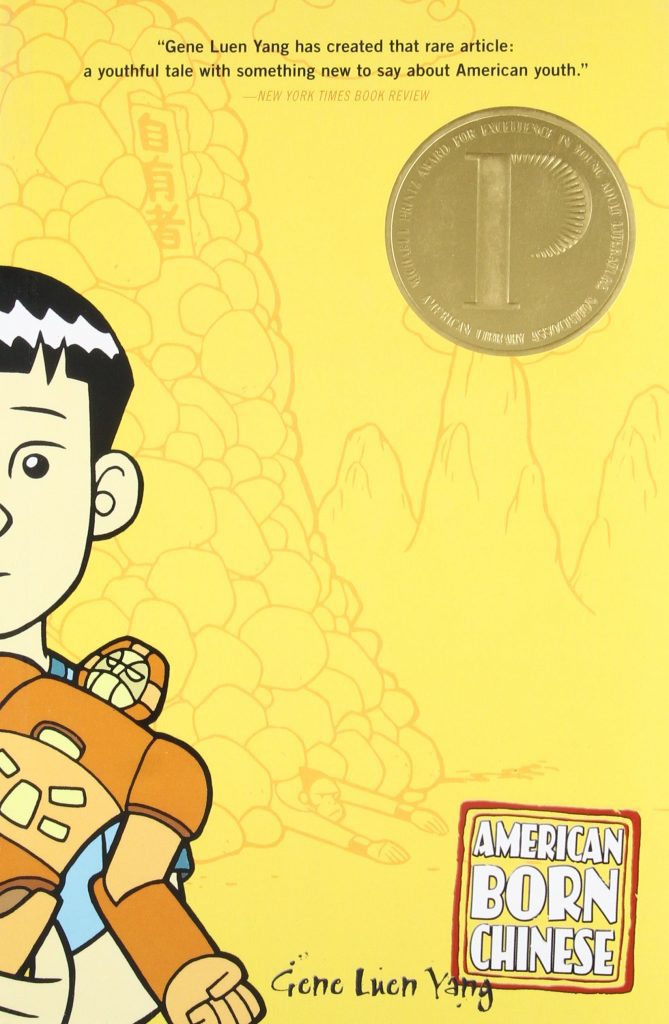 A tour-de-force by rising indy comics star Gene Yang, American Born Chinese tells the story of three apparently unrelated characters: Jin Wang, who moves to a new neighborhood with his family only to discover that he's the only Chinese-American student at his new school; the powerful Monkey King, subject of one of the oldest and greatest Chinese fables; and Chin-Kee, a personification of the ultimate negative Chinese stereotype, who is ruining his cousin Danny's life with his yearly visits. Their lives and stories come together with an unexpected twist in this action-packed modern fable. American Born Chinese is an amazing ride, all the way up to the astonishing climax.
Note: I loved the premise of this book, but it turned out to be more of a drama-filled romance than I expected. Of course, if you like that sort of thing…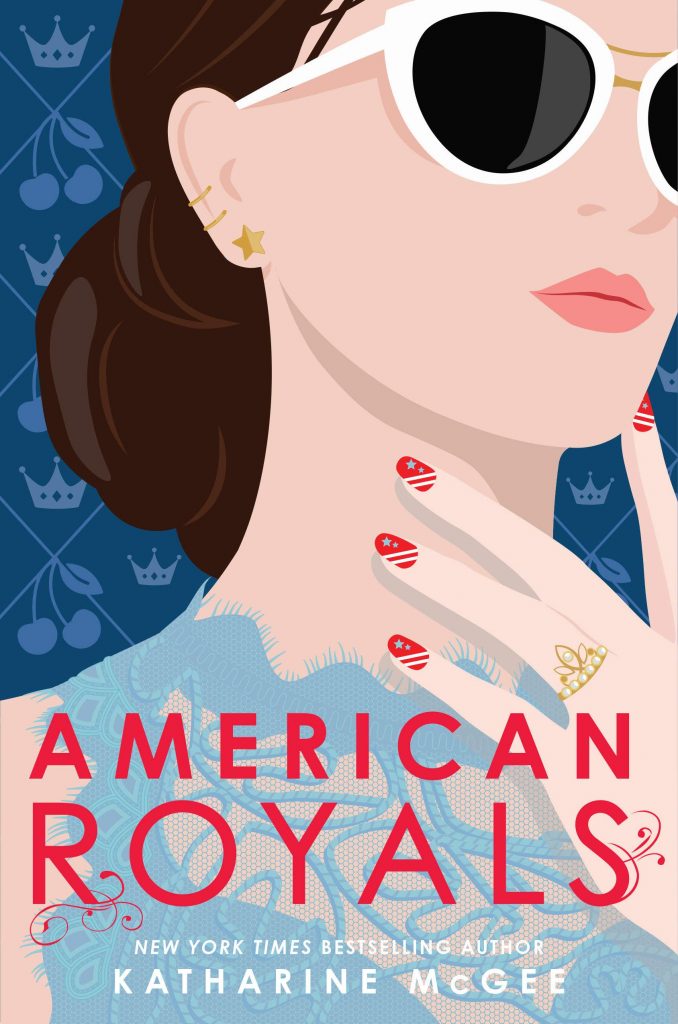 What if America had a royal family? If you can't get enough of Harry and Meghan or Kate and William, meet American princesses Beatrice and Samantha. Crazy Rich Asians meets The Crown. Perfect for fans of Red, White, and Royal Blue and The Royal We!
Two princesses vying for the ultimate crown.
Two girls vying for the prince's heart.
This is the story of the American royals.
When America won the Revolutionary War, its people offered General George Washington a crown. Two and a half centuries later, the House of Washington still sits on the throne. Like most royal families, the Washingtons have an heir and a spare. A future monarch and a backup battery. Each child knows exactly what is expected of them. But these aren't just any royals. They're American.
Bull Rider by Suzanne Morgan Williams
Note: Some of my most reluctant readers, who are very much into rodeos, automobiles, and hunting, have told me they've enjoyed this book. Or at least tolerated it more than others.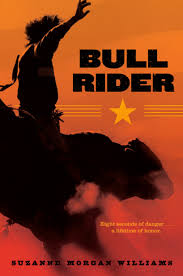 All it takes is eight seconds . . .
Cam O'Mara, grandson and younger brother of bull-riding champions, is not interested in partaking in the family sport. Cam is a skateboarder, and perfecting his tricks—frontside flips, 360s—means everything until his older brother, Ben, comes home from Iraq, paralyzed from a brain injury. What would make a skateboarder take a different kind of ride? And what would get him on a monstrosity of a bull named Ugly? If Cam can stay on for the requisite eight seconds, could the $15,000 prize bring hope and a future for his big brother?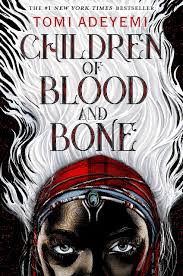 They killed my mother.
They took our magic.
They tried to bury us.
Now we rise.
Zélie Adebola remembers when the soil of Orïsha hummed with magic. Burners ignited flames, Tiders beckoned waves, and Zélie's Reaper mother summoned forth souls.
But everything changed the night magic disappeared. Under the orders of a ruthless king, maji were killed, leaving Zélie without a mother and her people without hope.
Now Zélie has one chance to bring back magic and strike against the monarchy. With the help of a rogue princess, Zélie must outwit and outrun the crown prince, who is hell-bent on eradicating magic for good.
Danger lurks in Orïsha, where snow leoponaires prowl and vengeful spirits wait in the waters. Yet the greatest danger may be Zélie herself as she struggles to control her powers and her growing feelings for an enemy.
Note: You may have seen the movie that followed this book. If not, check out the trailer below.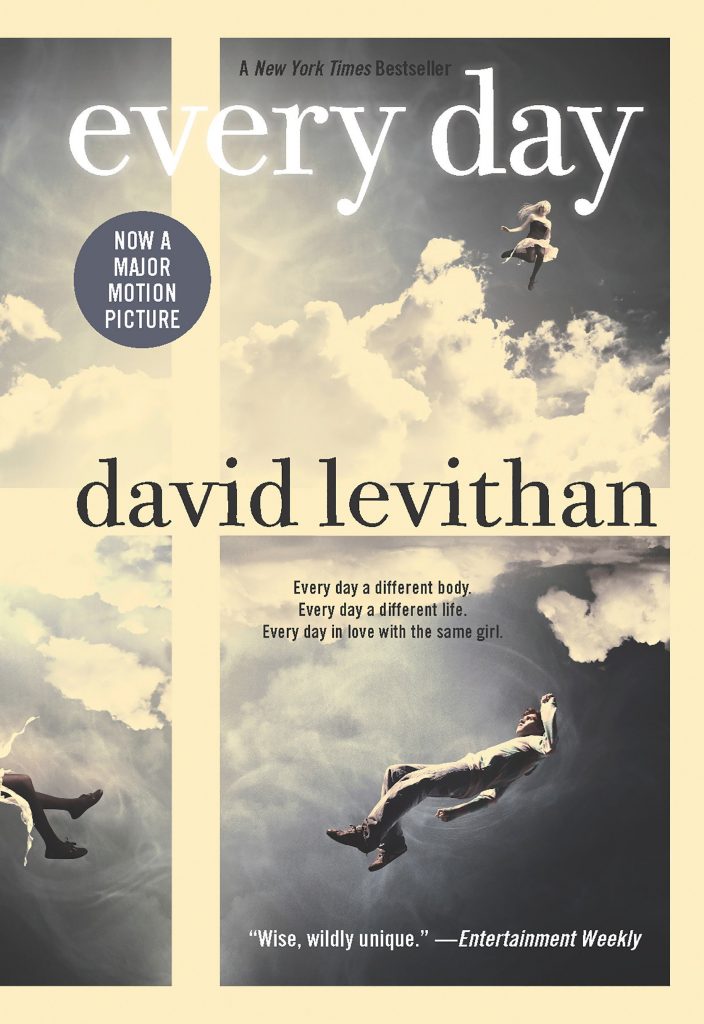 Every day a different body. Every day a different life. Every day in love with the same girl.
There's never any warning about where it will be or who it will be. A has made peace with that, even established guidelines by which to live: Never get too attached. Avoid being noticed. Do not interfere.
It's all fine until the morning that A wakes up in the body of Justin and meets Justin's girlfriend, Rhiannon. From that moment, the rules by which A has been living no longer apply. Because finally A has found someone he wants to be with—day in, day out, day after day.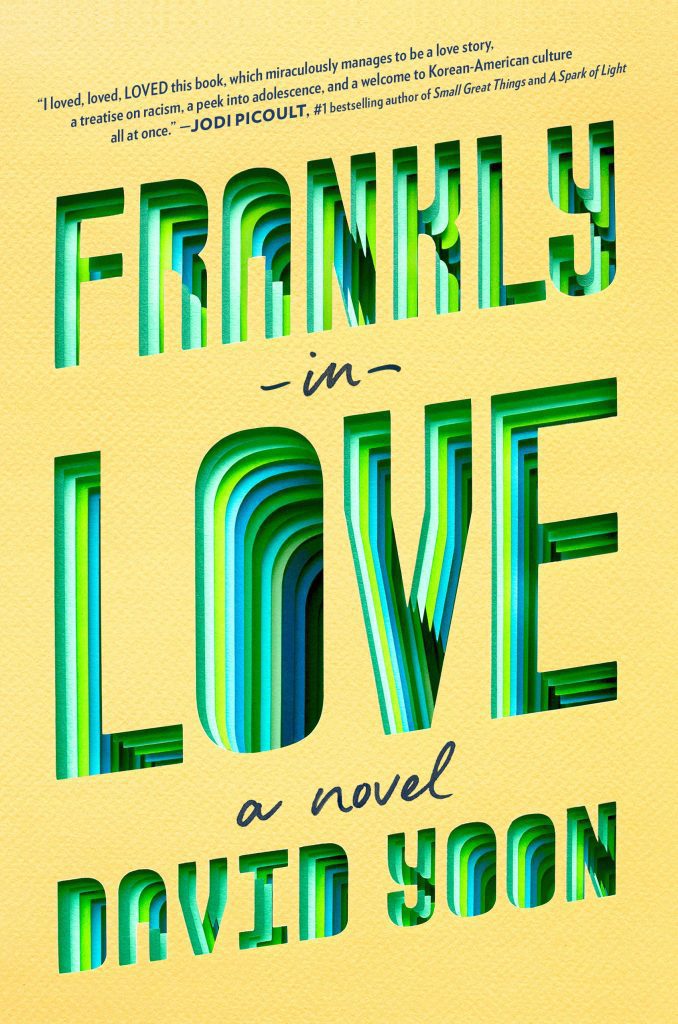 Two friends. One fake dating scheme. What could possibly go wrong?
Frank Li has two names. There's Frank Li, his American name. Then there's Sung-Min Li, his Korean name. No one uses his Korean name, not even his parents. Frank barely speaks any Korean. He was born and raised in Southern California.
Even so, his parents still expect him to end up with a nice Korean girl–which is a problem, since Frank is finally dating the girl of his dreams: Brit Means. Brit, who is funny and nerdy just like him. Brit, who makes him laugh like no one else. Brit . . . who is white.
As Frank falls in love for the very first time, he's forced to confront the fact that while his parents sacrificed everything to raise him in the land of opportunity, their traditional expectations don't leave a lot of room for him to be a regular American teen. Desperate to be with Brit without his parents finding out, Frank turns to family friend Joy Song, who is in a similar bind. Together, they come up with a plan to help each other and keep their parents off their backs. Frank thinks he's found the solution to all his problems, but when life throws him a curveball, he's left wondering whether he ever really knew anything about love—or himself—at all.
Note: A movie has been made from this book, so I highly recommend you watch it after you read the book. In the meantime, here's the trailer.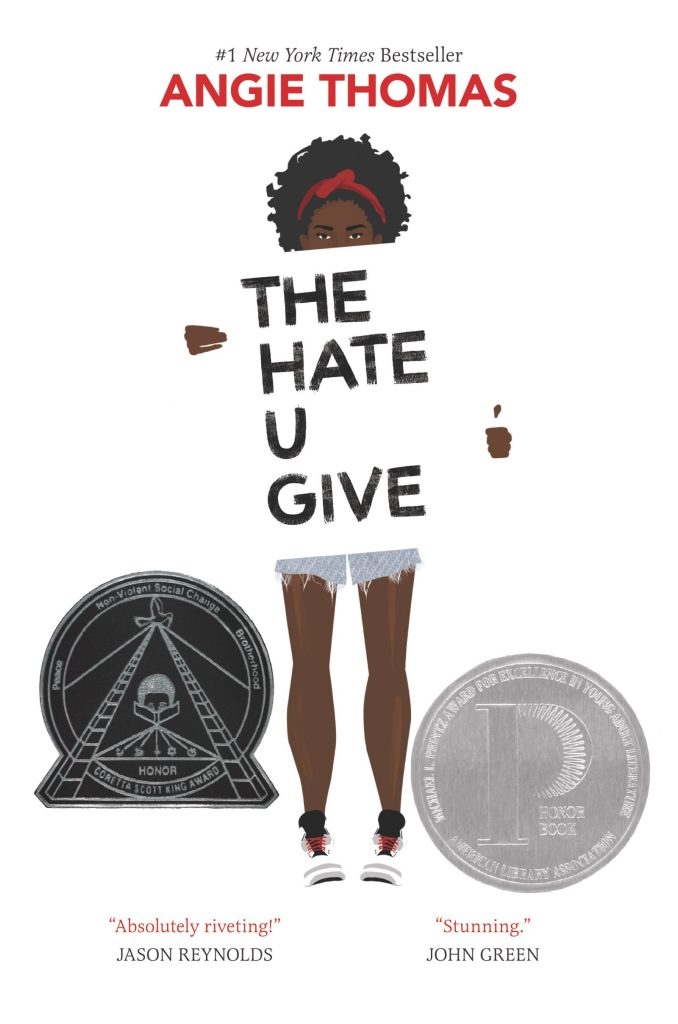 Sixteen-year-old Starr Carter moves between two worlds: the poor neighborhood where she lives and the fancy suburban prep school she attends. The uneasy balance between these worlds is shattered when Starr witnesses the fatal shooting of her childhood best friend Khalil at the hands of a police officer. Khalil was unarmed.
Soon afterward, his death is a national headline. Some are calling him a thug, maybe even a drug dealer and a gangbanger. Protesters are taking to the streets in Khalil's name. Some cops and the local drug lord try to intimidate Starr and her family. What everyone wants to know is: what really went down that night? And the only person alive who can answer that is Starr.
But what Starr does—or does not—say could upend her community. It could also endanger her life.
Note: You can download the Spanish edition, Yo no soy tu perfecta hija mexicana, here.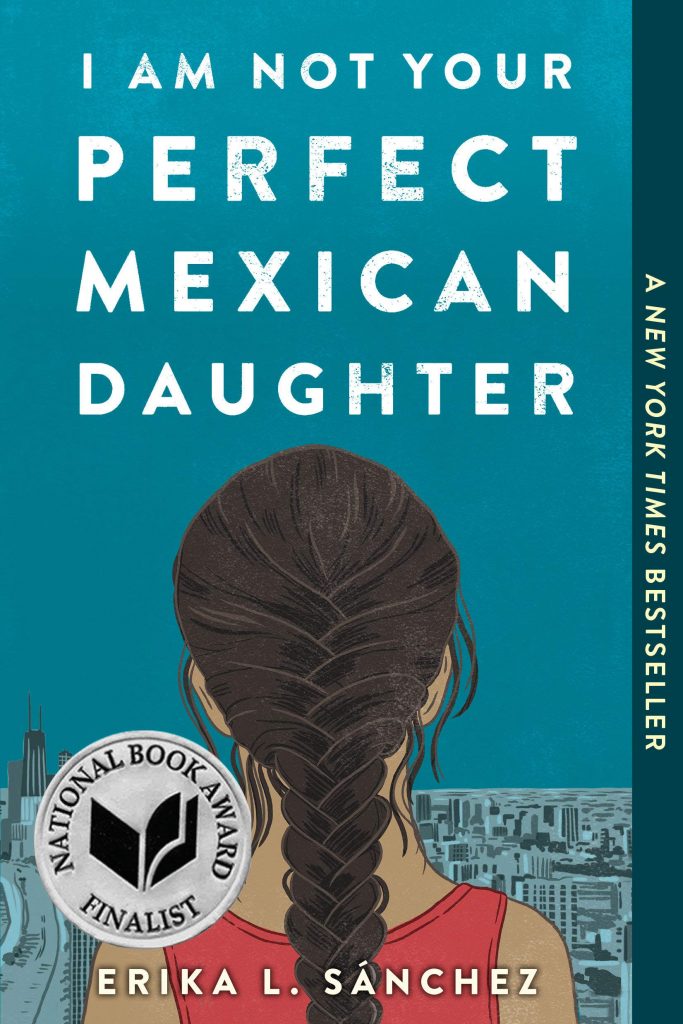 The Absolutely True Diary of a Part-Time Indian meets Jane the Virgin in this poignant but often laugh-out-loud funny contemporary YA about losing a sister and finding yourself amid the pressures, expectations, and stereotypes of growing up in a Mexican-American home.
Perfect Mexican daughters do not go away to college. And they do not move out of their parents' house after high school graduation. Perfect Mexican daughters never abandon their family.
But Julia is not your perfect Mexican daughter. That was Olga's role.
Then a tragic accident on the busiest street in Chicago leaves Olga dead and Julia left behind to reassemble the shattered pieces of her family. And no one seems to acknowledge that Julia is broken, too. Instead, her mother seems to channel her grief into pointing out every possible way Julia has failed.
But it's not long before Julia discovers that Olga might not have been as perfect as everyone thought. With the help of her best friend Lorena, and her first love, first everything boyfriend Connor, Julia is determined to find out. Was Olga really what she seemed? Or was there more to her sister's story? And either way, how can Julia even attempt to live up to a seemingly impossible ideal?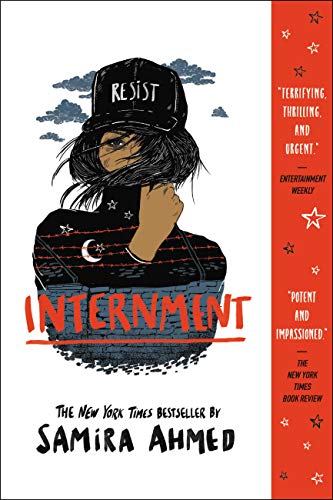 Rebellions are built on hope.
Set in a horrifying near-future United States, seventeen-year-old Layla Amin and her parents are forced into an internment camp for Muslim American citizens.
With the help of newly made friends also trapped within the internment camp, her boyfriend on the outside, and an unexpected alliance, Layla begins a journey to fight for freedom, leading a revolution against the camp's Director and his guards.
Heart-racing and emotional, Internment challenges readers to fight complicit silence that exists in our society today.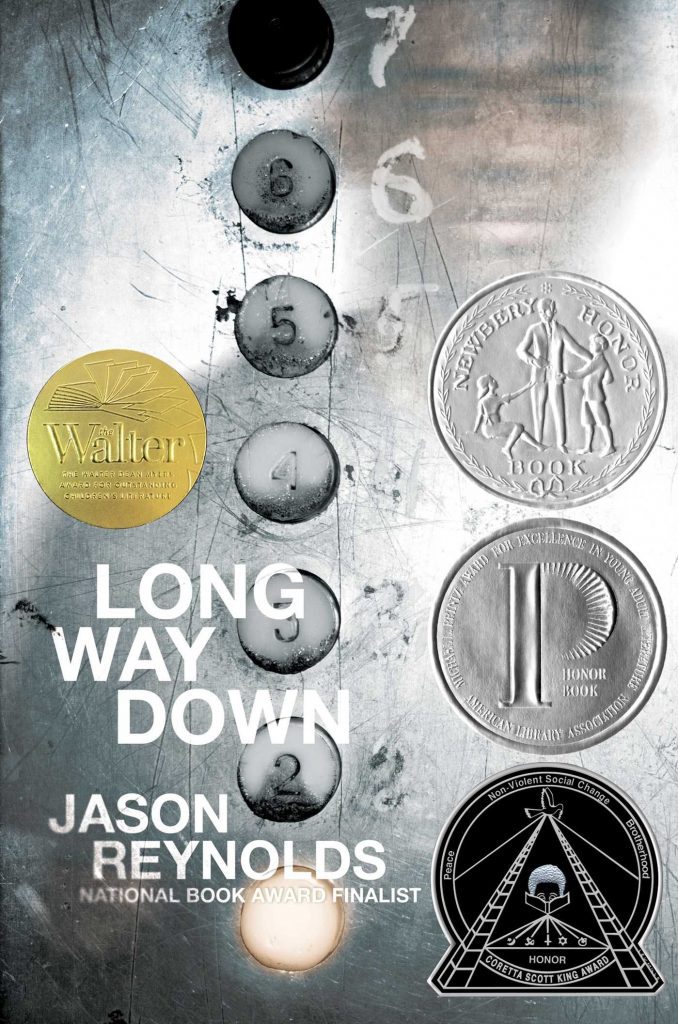 A cannon. A strap.
A piece. A biscuit.
A burner. A heater.
A chopper. A gat.
A hammer
A tool
for RULE
Or, you can call it a gun. That's what fifteen-year-old Will has shoved in the back waistband of his jeans. See, his brother Shawn was just murdered. And Will knows the rules. No crying. No snitching. Revenge. That's where Will's now heading, with that gun shoved in the back waistband of his jeans, the gun that was his brother's gun. He gets on the elevator, seventh floor, stoked. He knows who he's after. Or does he?
As the elevator stops on the sixth floor, on comes Buck. Buck, Will finds out, is who gave Shawn the gun before Will took the gun. Buck tells Will to check that the gun is even loaded. And that's when Will sees that one bullet is missing. And the only one who could have fired Shawn's gun was Shawn. Huh. Will didn't know that Shawn had ever actually USED his gun. Bigger huh. BUCK IS DEAD. But Buck's in the elevator?
Just as Will's trying to think this through, the door to the next floor opens. A teenage girl gets on, waves away the smoke from Dead Buck's cigarette. Will doesn't know her, but she knew him. Knew. When they were eight. And stray bullets had cut through the playground, and Will had tried to cover her, but she was hit anyway, and so what she wants to know, on that fifth floor elevator stop, is, what if Will, Will with the gun shoved in the back waistband of his jeans, MISSES.
And so it goes, the whole long way down, as the elevator stops on each floor, and at each stop someone connected to his brother gets on to give Will a piece to a bigger story than the one he thinks he knows. A story that might never know an END…if Will gets off that elevator.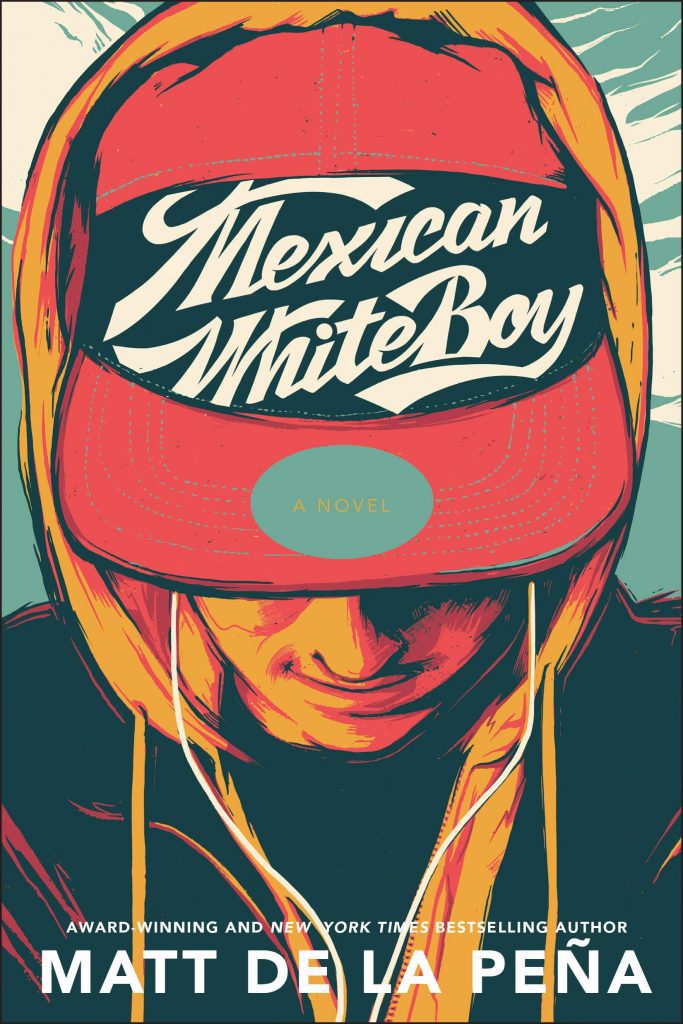 Danny's tall and skinny. Even though he's not built, his arms are long enough to give his pitch a power so fierce any college scout would sign him on the spot. Ninety-five mile an hour fastball, but the boy's not even on a team. Every time he gets up on the mound he loses it.
But at his private school, they don't expect much else from him. Danny' s brown. Half-Mexican brown. And growing up in San Diego that close to the border means everyone else knows exactly who he is before he even opens his mouth. Before they find out he can't speak Spanish, and before they realize his mom has blond hair and blue eyes, they've got him pegged. But it works the other way too. And Danny's convinced it's his whiteness that sent his father back to Mexico.
That's why he's spending the summer with his dad's family. Only, to find himself, he may just have to face the demons he refuses to see–the demons that are right in front of his face. And open up to a friendship he never saw coming.
Matt de la Peña's critically acclaimed novel is an intimate and moving story that offers hope to those who least expect it.
The Poet X by Elizabeth Acevedo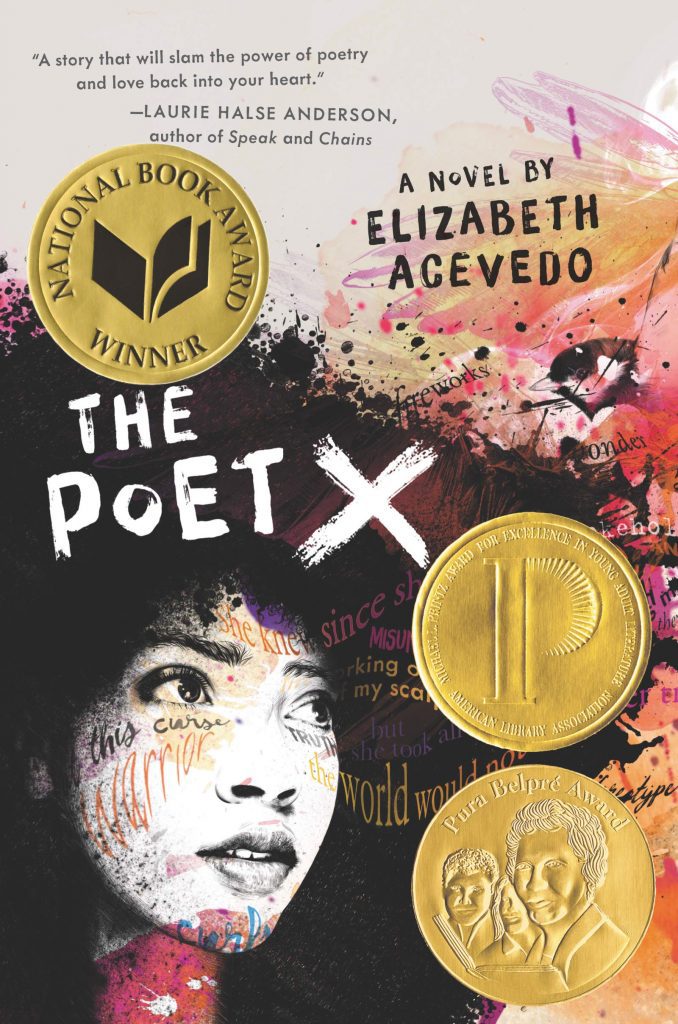 Xiomara Batista feels unheard and unable to hide in her Harlem neighborhood. Ever since her body grew into curves, she has learned to let her fists and her fierceness do the talking.
But Xiomara has plenty she wants to say, and she pours all her frustration and passion onto the pages of a leather notebook, reciting the words to herself like prayers—especially after she catches feelings for a boy in her bio class named Aman, who her family can never know about.
With Mami's determination to force her daughter to obey the laws of the church, Xiomara understands that her thoughts are best kept to herself. So when she is invited to join her school's slam poetry club, she doesn't know how she could ever attend without her mami finding out. But she still can't stop thinking about performing her poems.
Because in the face of a world that may not want to hear her, Xiomara refuses to be silent.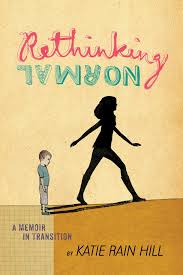 In her unique, generous, and affecting voice, nineteen-year-old Katie Rain Hill shares her personal journey of undergoing gender reassignment. Now with a reading group guide!
Katie Rain Hill realized very young that a serious mistake had been made; she was a girl who had been born in the body of a boy. Suffocating under her peers' bullying and the mounting pressure to be "normal," Katie tried to take her life at the age of eight years old. After several other failed attempts, she finally understood that "Katie"—the girl trapped within her—was determined to live.
In this first-person account, Katie reflects on her pain-filled childhood and the events leading up to the life-changing decision to undergo gender reassignment as a teenager. She reveals the unique challenges she faced while unlearning how to be a boy and shares what it was like to navigate the dating world—and experience heartbreak for the first time—in a body that matched her gender identity.
Shout by Laurie Halse Anderson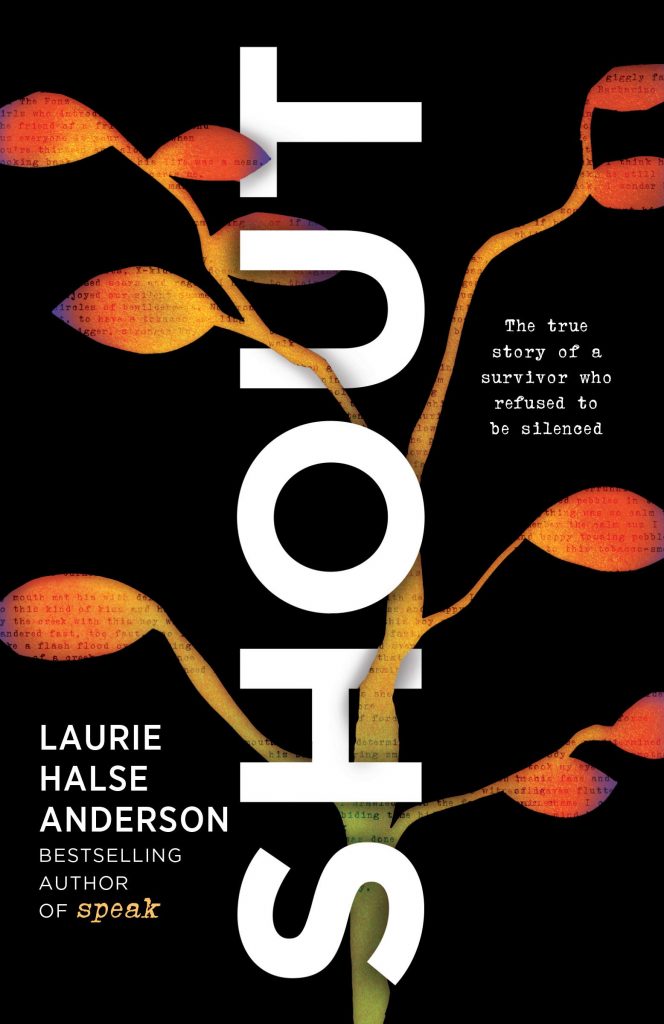 Bestselling author Laurie Halse Anderson is known for the unflinching way she writes about, and advocates for, survivors of sexual assault. Now, inspired by her fans and enraged by how little in our culture has changed since her groundbreaking novel Speak was first published twenty years ago, she has written a poetry memoir that is as vulnerable as it is rallying, as timely as it is timeless. In free verse, Anderson shares reflections, rants, and calls to action woven between deeply personal stories from her life that she's never written about before. Described as "powerful," "captivating," and "essential" in the nine starred reviews it's received, this must-read memoir is being hailed as one of 2019's best books for teens and adults. A denouncement of our society's failures and a love letter to all the people with the courage to say #MeToo and #TimesUp, whether aloud, online, or only in their own hearts, SHOUT speaks truth to power in a loud, clear voice– and once you hear it, it is impossible to ignore.
Note: If you've been following us, you might recognize this book from our podcast episode with the author, H.D. Hunter. I recommend you read this book and then listen to the podcast. Or vice versa…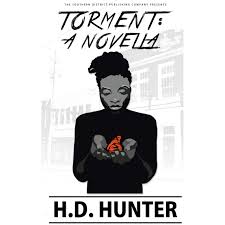 Throughout the weekend of his brother's funeral, a young man reflects on life. Torment is a crashing wave of emotion. Hunter explores the dynamics of growing up as a poor minority in a small town, facing mental health conditions that most communities would rather not name, even if they could. The story steps through the tangled web of coming-of-age identity crises, complicated by society and the environment around us. Navigating through grieving and rambunctious aunts and uncles, a role model sister he rarely sees, and the ever-mounting pressure of misfortune, the young man has a very important question to answer: What is worth living for?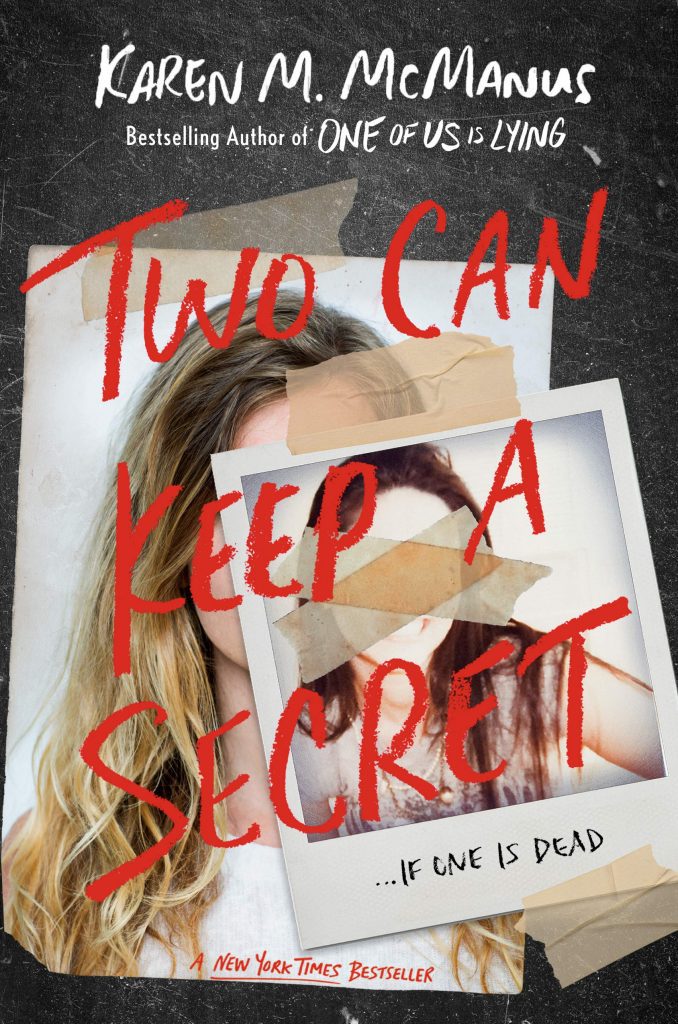 Echo Ridge is small-town America. Ellery's never been there, but she's heard all about it. Her aunt went missing there at age seventeen. And only five years ago, a homecoming queen put the town on the map when she was killed. Now Ellery has to move there to live with a grandmother she barely knows.
The town is picture-perfect, but it's hiding secrets. And before school even begins for Ellery, someone has declared open season on homecoming, promising to make it as dangerous as it was five years ago. Then, almost as if to prove it, another girl goes missing.
Ellery knows all about secrets. Her mother has them; her grandmother does too. And the longer she's in Echo Ridge, the clearer it becomes that everyone there is hiding something. The thing is, secrets are dangerous–and most people aren't good at keeping them. Which is why in Echo Ridge, it's safest to keep your secrets to yourself.
Do you have any favorite YA novels to suggest? Do you have a suggestion for a YA book that fits a genre I missed? Fill free to suggest it in the comments below!