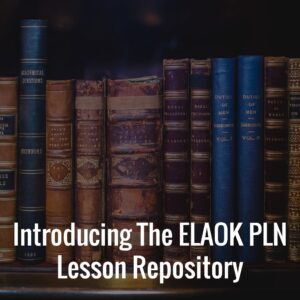 If you're one of those Oklahoma teachers working diligently this summer to align your curriculum to the new Oklahoma Academic Standards for English Language Arts, stop right now!
Oklahoma educator Jennifer Williams has spearheaded the creation of a repository of free lesson plans at all grade levels that have been aligned to the new standards. It's called the ELAOK PLN.
In August of last year, Jennifer contacted me about participating in the project as an editor of the middle school section of the site. I am working on adding my own content, and would like to invite all Oklahoma middle school teachers to submit their lesson plans, as well.
You can learn more about Jennifer's journey in creating the site by clicking the link below:
In December 2015, I had a conversation with my dear friend and fellow ELA educator Sarah Crichley (@Scrichley). (She's one of my favorite people with whom I collaborate. When we discuss ELA, the ideas fly.) I can't find our exact text conversation, but it went something like this: Sarah: Wouldn't it be amazing to have a place where teachers could share lesson plans.