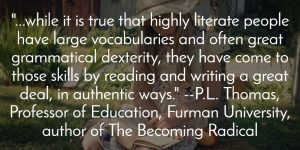 After three weeks of Oklahoma Writing Project Summer Institute training, a summer spent researching best practices for promoting literacy, and unpacking our new Oklahoma Academic Standards for English Language Arts, I am confident that I can lead my students down a path of authentic literacy, which requires we focus on BOTH reading and writing in meaningful, relevant, real-world projects.
I've written a research paper for the Oklahoma English Journal on how our new standards can promote authentic literacy — and how certain roadblocks exist that must be overcome in order for students to develop their full potential as literate citizens. If my paper is selected, I'll let you know here this fall. If not, I will most likely publish the paper here. In the mean time, PL Thomas, Professor of Education at Forman University in South Carolina has verbalized many of the concerns I have. You can read his article here:
Through the lens of having been a teacher/professor, published writer, and recreational/competitive cyclist for over thirty years, several high school experiences are now illustrative of larger facts about the tension between teaching discrete skills versus fostering holistic performances. In high school, I made As in math and science courses, but typically received Bs in English-and…
What are you doing in your class to promote authentic literacy?