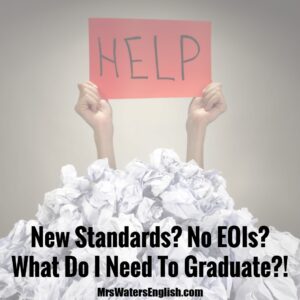 The 2016 legislative session ended with a lot of big changes for Oklahoma teachers and their students. Not only do we have new English language arts standards, but students will also no longer be required by the state to pass End-Of-Instruction exams (EOIs) in order to graduate.
New standards
English teachers across our state are working together to build curriculum maps, pacing guides and lesson plans for the new standards, but we've also been working to create presentations through the Oklahoma Writing Project to help you incorporate the new standards into your teaching practice.
Take a peek at the new standards and related resources here.
Graduation requirements
The biggest news for students is that, beginning with 2016-17 freshmen, they will no longer have to pass EOIs to graduate. That said, there will be a standardized or benchmark test graduation requirement, but each district will be able to decide what they want to use.
Read more about the graduation requirements for all high school students here:
[prettyfilelink size="209 kB" src="https://www.rethinkela.com/wp-content/uploads/2016/07/1468369979168.pdf" type="pdf"]House Bill 3218 – UPDATED Guidance for School Districts[/prettyfilelink]