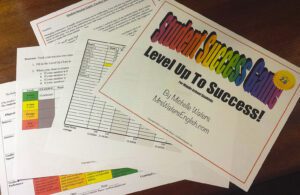 Over the past few years, I've developed a gamified classroom management system to help students reflect on and manage their behavior. I first published the game in 2013, and I've finally updated it this week.
I've used the game with 6th, 7th, and 8th graders — most recently with some tough 6th grade classes.
The new version of the game includes an Excel worksheet that teachers can use to track class student improvement points, class points, and class averages. Over time, this worksheet can help teachers see when students are making improvements, flying high consistently, or taking a nose dive at a certain point in time. The best part is: It's all generated by the students themselves, so the student (or their parents) can't argue about it.
This information can be used to start conversations about behavior issues with students, parents, and administrators, and enable teachers to work with students to develop a behavior plan that will encourage the student to be reflective and develop self-control.
You can read more about the game, or purchase it from my TpT store.