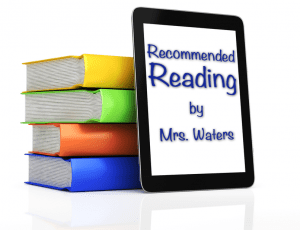 I stumbled across Amy Illingworth's Reflections on Leadership and Learning blog early this morning, and the teacher in me fell in love with her Mentor Text Monday posts.
Illingworth, who has some impressive credentials you can read about here, opened my eyes to ways that I can make the study of literature relevant to my students. We don't have to limit our studies to dusty old tomes written 100 years ago, whose authors died long before my students were born. While these stories do have a place in our classroom, we can study author's craft right in the the books students are reading today.
For example, in Found
, the opening book of her series The Missing, Margaret Peterson Haddix opens with a flashback. Since this book contains a significant amount of time travel, one can, upon reflection, detect a few layers of meaning in her opening sequence.
But right off the bat, even for the new reader, Haddix grabs ones' attention:
It wasn't there. Then it was.

Later, that was how Angela DuPre would describe the airplane — over and over, to one investigator after another — until she was told never to speak of it again.
Haddix takes us into the near past, the beginning of our main character's stories, even though we don't quite meet them yet, and hooks us. I, for one, stayed up until 3 a.m. trying reading like crazy to find out what happened.
In the first chapter, she skips ahead 13 years, where we get to meet our main characters and begin our adventure. Chapters two through sixteen seem a bit slow, but I kept reading, because I wanted to know what happened to the occupants of that airplane that disappeared. I am morally against spoilers, so I'll stop there.
Illingworth analyzes the craft of several books and articles on her site, as well. I recommend perusing them for inspiration. Also, add her site to your feed reader.