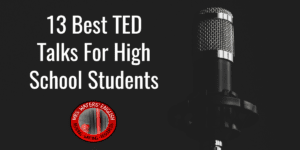 Need to inspire your students to build empathy for others or motivate them to chase their dreams? These TED Talks have great messages students need to hear, are presented by engaging speakers, and they're short enough to hold the students' attention.
The Danger of a Single Story by Chimamanda Ngozi Adichie | Free Lesson Plan
Our lives, our cultures, are composed of many overlapping stories. Novelist Chimamanda Adichie tells the story of how she found her authentic cultural voice — and warns that if we hear only a single story about another person or country, we risk a critical misunderstanding.
Any TED Talk Narrative Writing Project
Buy at TpT | Download for FREE here until August 2020
(Click the page numbers below to see the rest of the videos.)
I am a secondary English Language Arts teacher, a University of Oklahoma student working on my Master's of Education in Instructional Leadership and Academic Curriculum with an concentration in English Education, and a NBPTS candidate. I am constantly seeking ways to amplify my students' voices and choices.