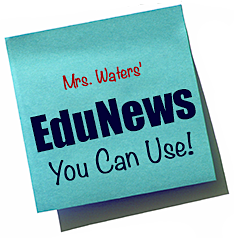 The Twitter community #OklaEd featured discussion of HB 3399, the primary elections, academic standards, the new RSA law, and local legislative races.
You can read the entire transcript at Storify #OklaEd, but here are some of the best quotes of the night:
On the election
A1: One step accomplished but many more to go before we get Ok education headed in the right direction #oklaed

— The Curriculum Lady (@lsmellott) June 30, 2014
A1 Shows the value in team work and shared leadership. #oklaed

— Kenneth Ward  (@kennethdward) June 30, 2014
A1: Teachers DO have a voice and we should use it more frequently, as this is just the beginning. #oklaed

— Mrs. Waters (@watersenglish) June 30, 2014
On the repeal of Common Core
#oklaed A2: It's very scary to think that legislature will have power to revise standards. Potentially devalues educators hard work.

— Derrick Meador (@AboutTeaching) June 30, 2014
A2- I am hopeful that we can get beyond the political posturing and do what's right for students and teachers. #OklaEd

— Shawn Hime (@shawnhime) June 30, 2014
#oklaed It's frustrating to think bout all the hard work we've put in last few years. Finally getting feet under ourselves and rug pulled.

— Derrick Meador (@AboutTeaching) June 30, 2014
"@coach57: What about ACT/Aspire should #oklaed start that conversation" We should lead the charge @joy4ok! Let's be the model for the US

— Nathan Meget (@NMeget) June 30, 2014
General sentiment
Parents and Educators working together have proven to be a very powerful force. #OklaEd

— Shawn Hime (@shawnhime) June 30, 2014
All Oklahoma educators are welcome. Our next chat is at 8 p.m. CDT on Sunday, July 6. I won't be able to attend, or report on that one, because I will be out of town, possibly out of cellphone range.
I am a secondary English Language Arts teacher, a University of Oklahoma student working on my Master's of Education in Instructional Leadership and Academic Curriculum with an concentration in English Education, and a NBPTS candidate. I am constantly seeking ways to amplify my students' voices and choices.