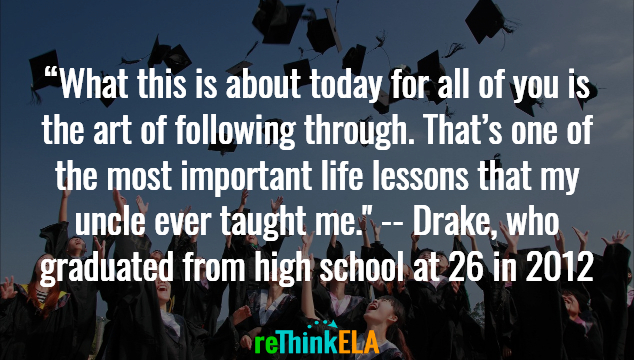 Every once in a while, I'll see a post on Twitter by a teacher that speaks to who we are as English teachers and how we impact our kids.
I first saw this conversation back in June when a teacher in my Twitter PLC retweeted it, and it made me think: In what ways am I intentionally supporting my students?
As an English teacher, we are uniquely gifted with a opportunities to listen to our students as we read literature — both what we recommend and what our students choose. We are gifted with the opportunity to read what are students write, particularly when we provide them with opportunities to write about what they know, to share with the world what is on their minds and in their hearts.
you can tell how sad someone was at school by how much they attached themselves onto their English teachers for a sense of stability
This is a great responsibility. I tell my students that anyone who has ever been my student will always be one of my kids. This means that I have a responsibility to encourage them, to help them see who they are and their potential, even after they've left my class.
Some students I'll never hear from again. Some will message me a year later and tell me that I helped them stay in school. Others will ask for help with papers they've been assigned in other English teacher's classes. Some I'll find through other students and be happy knowing that they're out their living their lives and that they're OK.
Some, I'll have the chance to encourage when they post updates about their lives.
My freshman english teacher has some of us students on Facebook and is constantly giving us words of encouragement and support and that's just so cool to me. 6 years later she's still watching out for all of us 💛 Mrs. Wells rocks
Even famous television producers are contributing to the conversation and encouraging others to support teachers. Notice, he met with his old English teacher. *insert grin emoji*
I recently visited my life-changing 7th grade English teacher Mrs. Meghreblian. We reminisced about Millikan Jr High + excellent L.A. public schools pre Prop 13. Schools are being deprived of resources and we are losing great teachers who are doing their best. Support teachers.
All that said, one of the most important things we can do as English teachers is encourage our students to never give up. I've worked with kids who've suffered injuries on the sports field, kids whose families have broken up, kids whose academic careers were in jeopardy, kids whose friends rejected them, kids whose parents weren't treating them right, and more.
We often find ourselves not just serving as English teachers, but as counselors, coaches, and mentors. Students sit in our classes at lunch to get away from the madness of high school or just talk to us. Students finish their work in other classes and join ours to have a space where it is safe to exist.
the amount of support english teachers give us is unreal you have no clue how they've helped me through rough patches throughout the years by letting me rant or to just let me sit in their classrooms and have lunch. no amount of support can reach the levels of an english teacher.
Perhaps we just need to listen. Maybe we need to provide a safe space or an encouraging words. Or maybe we need to show up with our tool box of ELA skills and make sure a former student knows how to use them. 
I just want to say thank you to every English teacher I ever had because this correlation just clicked and I don't think I would've graduated without the emotional support they offered me https://t.co/Hn8Xg2oAei
Whatever it is that our kids need, we need to help them follow Drake's advice and follow through, whether it's swinging a bat, getting a job, or graduating from high school.
Rapper Drake stole the spotlight at a Toronto high school graduation Friday. A recent grad himself after a decade-long hiatus, Drake, 26, offered his congratulations to the graduates of Jarvis Collegiate Institute. "What this is about today, for all of you, is about the art of following through," Drake told the crowd of screaming graduates.