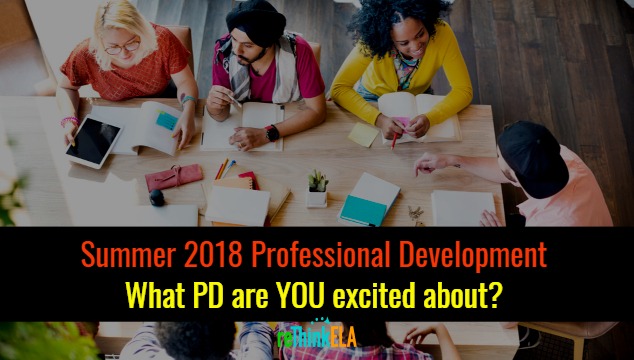 Some people who aren't teachers think we sit around watching Netflix and eating bonbons all summer. If you're reading this though, you know better. Great teachers use the summer to recharge their batteries — fill up on all the professional development goodness that will re-spark their passion for their subject, and for their students. If you're looking for professional development opportunities for this summer, check out what I've found:
Talks With Teachers Summer Book Club
You should definitely read books this summer. A few of my Twitter colleagues have designed a book chat in which we'll read three books: a novel, a work of nonfiction, and a PD book.
The Talks with Teachers Book Club and #THEBOOKCHAT are combining this summer! In June we'll read the debut novel of @ShobhaRaoWrites, in July the work of literary giant Zora Neale Hurston, and in August @MrTomRad's love letter to teaching. Join us: https://t.co/qQMJuKL0wp #edchat pic.twitter.com/W3OIDF6uTK

— Scott Bayer (@Lyricalswordz) May 20, 2018
#DisruptTexts Slow Chat
If you're tired of teaching the same old dead white guys and are ready to introduce diverse literary perspectives to your students, check out this slow Twitter chat.
Hey y'all! Tomorrow our second #DisruptTexts chat takes off. Get ready and tell your friends. @juliaerin80 @TchKimPossible @triciaebarvia 😬 pic.twitter.com/OXoQrUMCZ6

— Lorena Germán (@nenagerman) May 20, 2018
Learn more about how this slow chat works here.
10th Annual Summer #BookADay Challenge
Want to be a better reading teacher? Step up your reading game this summer with Donalyn Miller and several other teachers from around the world:
On the @nerdybookclub FB page, I'll be kicking off the 10th Annual Summer #Bookaday Challenge on FB Live tonight at 7:30-8:00pm CDT. Join us for another summer of reading and sharing!

— Donalyn Miller (@donalynbooks) May 20, 2018
Learn more about the challenge here:
The 100 Days Of Summer Writing
The better writer you are, the better writing teacher you will be. Naturally, this takes practice. So check out this writing professional development opportunity you can complete at home on your computer. I'm really looking forward to this one!
IT'S HERE: The 100 Days of Summer Writing!!!#100DOSW18 #MovingWriters https://t.co/UW9TbzaAFP pic.twitter.com/i6MKnCpIsv

— Rebekah O'Dell (@RebekahODell1) May 16, 2018
What summer PD opportunities are you excited about?