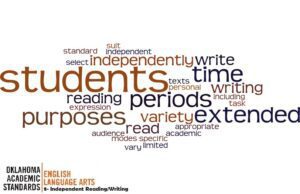 Whether you're a brand new Oklahoma teacher, or you've been in the classroom for decades, you're in the same boat this new school year. Everything we're doing needs to be aligned to the new Oklahoma Academic Standards for English Language Arts, passed by the legislature near the end of the 2016 legislative session.
The 8 Great ELA Standards
Oklahoma teachers created eight standards for English Language Arts. Below are the standards, and the links will take you to videos and other documents from ELAOK Teachers that will help you understand and implement each standard.
You can find all the tools and resources you need to create new and/or align your existing curriculum (courtesy of Josh Flores and the ELA Task Force) to the new standards:
Vertically-Aligned Standards
Grade-Level Specific Standards
You can also download these files from the ELAOK Teacher Google Drive.
298 kB

6th Grade ELA Standards
295 kB

7th Grade ELA Standards
299 kB

8th Grade ELA Standards
301 kB

9th Grade ELA Standards
298 kB

10th Grade ELA Standards
302 kB

11th Grade ELA Standards
294 kB

12th Grade ELA Standards
Click here for links to additional resources for unpacking and implementing the new OAS ELA standards from ELAOK Teachers.
Also, you can view additional resources from the state website here.
Curriculum Maps & Pacing Guides Community Project
Mr. Flores has organized a group of Oklahoma teachers to develop curriculum maps and pacing guides for the new ELA standards. You can download them from a shared Google Drive.
A curriculum map and pacing guide serves as a map for your school year, just like a road map serves as a guide for a physical journey. You can see the terrain, note must-see locales, and follow specific routes.
Standards-Alignment-At-A-Glance template
Ginger Howe of Moore Public Schools created a template you can use to easily align your current units to all eight new standards. Click here to watch a video introducing the system and download the related documents.