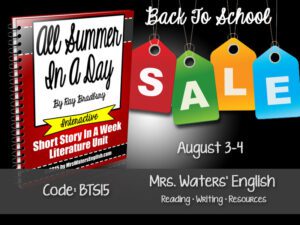 Get ready to go back to middle school with the following products on sale Monday and Tuesday– 20% off.
All Summer in a Day by Ray Bradbury: Complete short story in a week unit with daily reading, discussion, and writing mini-projects, plus essay writing assignment featuring essential questions.
Go beyond just recognizing the elements of story and really delve into the meaning of the story — and how it's relevant to students today. $12.99 $10.39
Argumentative and informative essays are critical to an ELA classroom because students need to be able formulate opinions and defend them logically in writing. This resource provides a graphic organizer and rubric to help middle school student plan and draft an argumentative or informative essay on selected high interested topics.  $3.00 ​$2.40
VERSION 2.0! Student Success Game: Behavior Modification Program
Encourage your students to reflect on their own behavior and goals with the Student Success Game. Students fill out the behavior rubric every week or two, and turn it in to you. Then you decide if you agree with their assessment of themselves. You can even ask them to write a reflective paper on their results. $6.00 $4.80
Mark your calendars — the sale runs through tomorrow! Check out my store here.