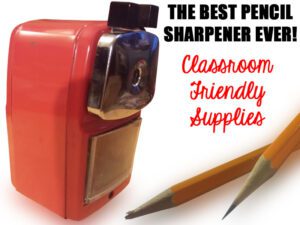 One of the toughest school supplies to find is a good pencil sharpener. Since I started teaching, my students have "chewed" through more of them than I can count.
This was especially true at some of the older schools where I've worked. One pencil sharpener was barely attached to the door. I tried to repair it, but the holes in the door were stripped and would not hold the screws.
Other pencil sharpeners (including the aforementioned one after a maintenance guy moved it) simply ate through the pencils without actually sharpening them. Electric sharpeners died. But before they did, the electric sharpeners made way too much noise. Nothing will stop the flow of a lesson like a student noisily grinding through a pencil because her lead broke mid-note.
After getting fed up with the daily pencil sharpener grind, I finally asked a colleague for suggestions. That's when I heard about ClassroomFriendlySupplies.com and their heavenly pencil sharpeners. (In case you're wondering, CFS did send me a free sharpener in exchange for this review. But that's after I'd already bought three — one for my class, one for home, and one for a colleague.)
Not only are the sharpeners affordable, they are durable enough to withstand hundreds of middle schoolers.
They're also easy to use. You just need to model the proper usage to each of your classes once, and students will soon start teaching each other. I love it when they do that!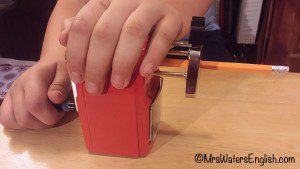 So why do I love this sharpener so much?
It's quiet.
It's mobile.
It comes with a clamp
It really sharpens even the most stubborn pencil.
It lasts the entire year — or longer.
The blades can be replaced if they get dull.
It's perfect for kids of all ages.
Distraction-free sharpening.
Perfect points every time!
The mess is contained and students love emptying the little drawer.
Convinced? Click here to get your best pencil sharpener ever*.
*Note: The link above is an affiliate link. I may earn a small referral fee if you click the link and then purchase the best pencil sharpener ever.