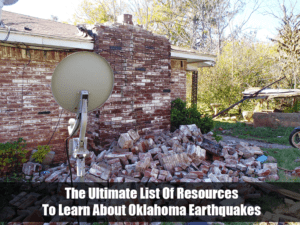 Having grown up in Oklahoma, I had never felt an earthquake until 2001 in Tulsa. While Oklahoma had experienced earthquakes prior to that time, they were few and far between, and too small for most people to feel. Today though, we experience dozens of earthquakes in a day, with many of them large enough to cause damage.
Check out the resources below to help your students learn about this recent phenomena.
Updated
Articles
Scientific Reports
Videos
Interactives
Lesson Ideas
For bellwork, as students to write about their personal experiences with Oklahoma earthquakes
Share your personal experiences with earthquakes in Oklahoma, or earthquakes in general
Ask students to share the personal experiences with Oklahoma earthquakes from their bellwork
Watch videos and discussion causes of earthquakes
Read articles discussing earthquake causes and responses
Ask students to find more resources and write an argumentative essay about how to prevent Oklahoma earthquakes
Ask students to write a short story about their personal experience with earthquakes
Ask students to evaluate the evidence related to fracking and Oklahoma earthquakes
If you know of more resources for learning about Oklahoma earthquakes, please share them in the comments below.