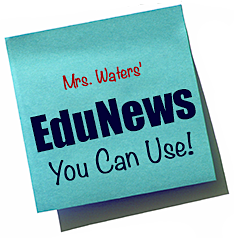 Last week I told you about the Dream Catcher Student Incentive program my principal, Dalton Griffin designed for our school. Basically, it's a point system that provides quarterly and yearly incentives for students in academic, behavioral, attendance, and service areas. The big incentive? An end-of-year trip to Six Flags Over Texas. That's not all Mr. Griffin has designed. He also created a Professional Learning Community in our school that encourages us to collaborate and provides time during our contracted hours to do so.
What I didn't tell you is that our principal, English department head Debbie Self, and I presented the student incentive and PLC program at an Oklahoma Gear Up Leadership Academy on Tuesday.
Mr. Griffin presented the systems he created to the academy attendees and coordinators, including administrators from Davis and Duncan, Oklahoma, and Ohio's Battelle for Kids Senior Director Dr. Bobby Moore. Mrs. Self shared how the PLCs have benefited our school, and a sample of a Dream Catcher essay written by one of our students. I was honored to be asked to talk about how I have developed my own virtual PLC via this blog and Twitter.
Here is some of what was said about our programs and the presentation:
@BobbyMooreBFK @OklahomaGEARUP thanks for a good day!! Thanks Little Axe schools for sharing.

— Rod Maynard (@MaynardRod) November 18, 2014
After dinner, Dr. Moore ate dinner with Mr. and Mrs. Griffin, and shared this photo via Twitter: Below are the PowerPoint we used in our presentation. If you have questions about the systems Mr. Griffin created, please contact him at Little Axe Middle School. The phone number is at the bottom of that web page.  
After dinner, Dr. Moore shared dinner with Mr. and Mr. Griffin. And he also shared this Tweet:
Mr and Mrs Dalton Griffin. Little Axe MS. Behind every great principal is a fabulous spouse! @OklahomaGEARUP pic.twitter.com/mR6GEtQ0cF

— Dr. Bobby Moore (@BobbyMooreBFK) November 19, 2014