I don't know about you, but with a schedule of more than 200 live sessions and and a library of more than 300 on-demand sessions, I'm a little overwhelmed with what sessions to attend live and which ones to watch at my own leisure.
Fortunately, according to NCTE:
All Live and Prerecorded/Scheduled Sessions and On-Demand Sessions are available within the Convention platform to all registrants; watch Nov. 18–21, 2021, and through the online archive until Feb. 19, 2022.

NCTE Program Guide
That said, even knowing that you have to February to view your sessions, deciding what to watch is still daunting, so I am going to post here the sessions I find over the next few days. If you'd like to bookmark this page and check back often for updates, you're welcome to do so. Or, you can enter your name and email address in the form below and I'll send you notices when I update this post. I'll also update you when I discover or create more resources to help you serve your ELA students.
In the interests of organizing my list, I'll include a section of live/scheduled sessions from my Google Calendar and a section for On Demand sessions I discover.
On Demand Sessions
Wild Tongues Can't Be Tamed : Amplifying and Celebrating Voices from the Latinx Diaspora in Young Adult Literature and in the Classroom featuring Saraciea Fennell, Mark Oshiro, Sandra Saco, and Ibi Zoboi.
Authors from across the Latinx diaspora will examine the different myths and stereotypes about
their rich and diverse community. Using their new anthology as a framework, these changemakers
will discuss the urgent need to create equitable learning environments for students and offer access
to works that will affirm students' identities and encourage a new generation to read, succeed, and
achieve.

NCTE21 On Demand Session Guide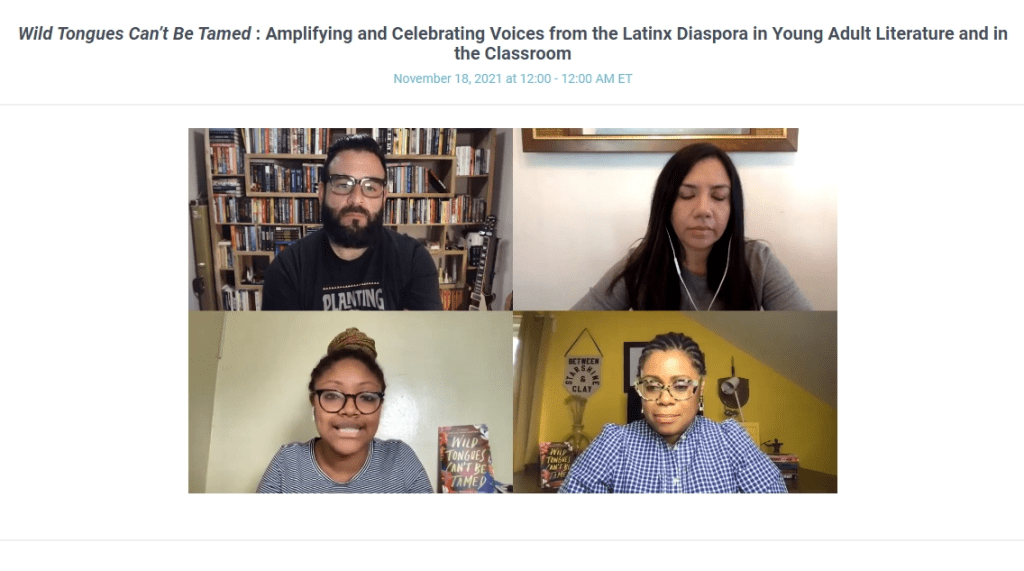 Native Now: Contemporary Narratives Push Back Against Stereotypes & Erasure to Celebrate Today's Indigenous Peoples by Angeline Boulley, Cherie Dimaline, Ricki Ginsberg, Michaela Goade, Cynthia Leitich Smith, Carole Lindstrom, Darcie Little Badger, Kevin Maillard, and Traci Sorell
Eight Native authors/illustrators push back against stereotypes and erasure in their recently published books. In consideration of what it means to be "Native Now" and with a focus on writers'/illustrators' craft, this presentation offers a multifaceted picture of the rich storytelling and innovation within their contemporary narratives.

NCTE21 On Demand Session Guide
Doing the Work: Unlearning Racism through Narrative Writing and Sharing Our Stories presented by Shelly Unsicker-Durham and Michelle Waters
What does it mean to do the work of antiracism, especially when you're a white teacher in a red
community? Using the framework of writing and revising personal narratives, two Oklahoma teachers
will share personal stories of facing racism in the communities in which they taught, along with
teaching strategies for challenging existing power structures that continue to support racism.

NCTE21 On Demand Session Guide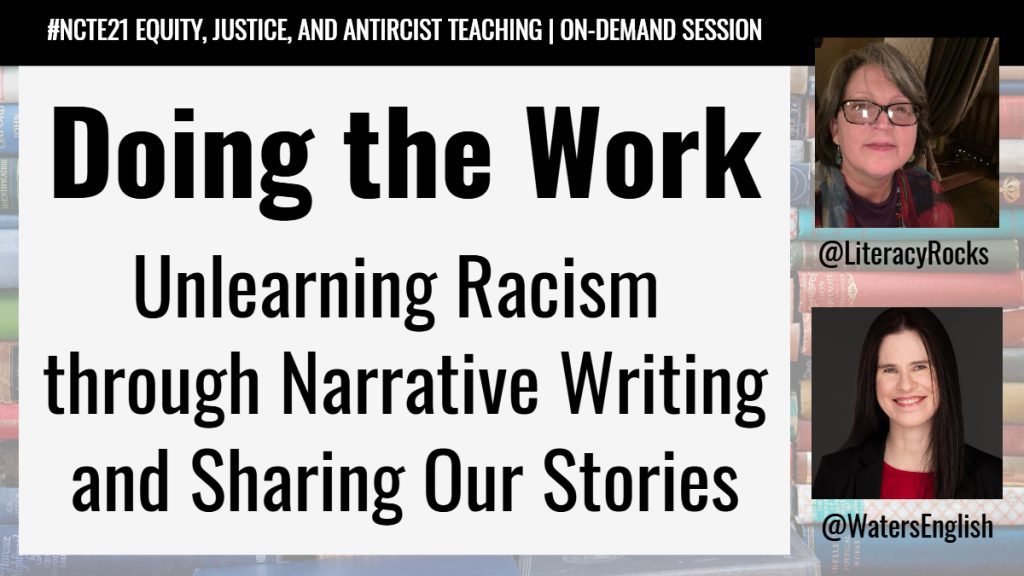 Live & Scheduled Sessions
Thursday
Build Your Stack — Promoting Inclusion with Classroom-Created Anthologies presented by Sylvia Vardell and Janet Wong | 12:30 p.m. CST Thursday, November 18
Create texts that are inclusive mirrors for your students by having them assemble and publish anthologies using their own work and print-on-demand technology.

NCTE21 Program Guide
Build Your Stack: "Unbound": Picture Books that Celebrate and Uplift Differently-Abled People with Taylor Kiehl and Ashton Darby-Hampton | 2 p.m. CST Thursday, November 18
Books that celebrate and highlight differently-abled individuals.

NCTE21 Program Guide
Changing the Narrative, Reimagining the Curriculum: Elevating Marginalized Voices by Diana Liu, Tien Pham, Norman Sales, and Betina Hsieh | 2 p.m. CST Thursday, November 18
This presentation highlights how texts representing marginalized perspectives can push back on dominant narratives in classrooms. Participants will leave with a greater awareness of potential pitfalls when "diversifying" curriculum and will reflect on their practices to consider how they can mindfully integrate, deepen their use of, and center diverse voices

NCTE21 Program Guide
Turning Anti-Bias and Antiracist Theory Into Classroom Practice by Kassandra Minor, Henry Cody Miller, Liz Kleinrock, Jessica Lifshitz, and Shea Martin | 2 p.m. CST Thursday, November 18
Join antibias and antiracist practitioners as we identify and explore texts, student work, and original units of study that center the confluence of understanding and concretizing ABAR theory in the classroom.

NCTE21 Program Guide
Teaching through Coronavirus: Toward Urgent Humanizing Distance Learning Pedagogies by Roderick Peele, Alicia Arce-Boardman, Sakeena Everett, Kyla Britt, Theresa Bruce, Kerry Elson, Antoinette Gibson, Laquisha Hall, Kindel Nash, and Keisha McIntosh Allen | 2 p.m. CST Thursday, November 18
Responding to the ways that Black and Brown students have been disproportionately affected by the quadruple pandemics we're currently living through, this presentation features teachers discussing the humanizing pedagogies they have engaged during distance learning. We offer implications for practice as we adopt a new and presumably more just normal.

NCTE21 Program Guide
Humanizing Professional Development: Implications for Teachers and Researchers by Sakeena Everett, Kyla Britt, Kindel Nash, Keisha McIntosh Allen | 5 p.m. CST Thursday, November 18
Given the disproportionate impact of COVID-19 on communities of color and continuous acts of antiBlack violence, along with teachers' expressed needs for support during persistent and interlocking pandemics, this presentation shares how an intergenerational group of four researchers and 100 public school educators in an urban school district developed justice-oriented policies and practices.

NCTE21 Program Guide
Friday
Graves Award – Writing that Matters: Enacting Anti-Racist and Culturally Sustaining Writing Curriculum alongside Young Writers & Families by Tracey Flores, Maria Paula Ghiso, Rosalyn Harvey-Torres, Miriam Ortiz, Richard Rivera-Amezola, and Carmela Valdez | 10:45 a.m. CST Friday, November 19
Established in 2001, the Donald H. Graves Award recognizes exemplary teachers of young writers. This session is a love letter to writing teachers who build writing communities where young writers bravely compose to restory themselves and their communities, to resist marginalization, and to sustain their cultures, voices, and identities.

NCTE21 Program Guide
Saturday
Our Voices/Own Voices: Writing Personal Essays and Reading Memoir to Explore Intersectional Identities and Build a Community of Upstanders by Nada Abdallah, Emily Gifford-Smith, Audra Robb, Amanda Sedefian | 8:30 a.m. CST Saturday, November 20
Students can become more aware of their own and others' perspectives through personal essay writing and critical reading of memoir. Coach students to connect across identities, uncover systems of power and privilege, consider how different authors treat similar themes, and plan for social action. This interactive workshop offers lessons, examples of student work, and suggestions for memoirs.

NCTE21 Program Guide
Saturday General Session: Colson Whitehead | 10 a.m. CST Saturday, November 20
Colson Whitehead is the author of the forthcoming Harlem Shuffle. He is the #1 New York Times bestselling author of ten works of fiction and nonfiction, and a two-time winner of the Pulitzer Prize for Fiction, for The Nickel Boys and The Underground Railroad, which also won the National Book Award.

NCTE21 Convention Speakers
Designing Antiracist ELA Pedagogy Through and Beyond Pandemic: Extending Lessons Learned from NCTE Gatherings by Antero Garcia, Tiana Silvas-Brunetti, Ernest Morrell, Tracey Flores, Detra Price-Dennis, Yolanda Sealey-Ruiz, Nicole Mirra, Danny Martinez, Tonya Perry, and April Baker-Bell | 11:30 a.m. CST Saturday, November 20
From the moment the pandemic began radically altering the structures and practices of public education, creative ELA teachers have developed models of antiracist, justice-oriented pedagogy they shared through gatherings supported by NCTE. This roundtable session highlights lessons learned and offers strategies all teachers can use to teach for equity

NCTE21 Program Guide
Being and Becoming Teacher-Writers: Writing for Equity and Change by Christine Dawson, Anne Whitney, Troy Hicks, Andy Schoenborn, David Premont, and Jim Fredricksen | 1:15 p.m. CST Saturday, November 20
This interactive session invites participants to explore ways in which teachers' writing practices can foster equity, justice, and antiracism, both within and beyond classrooms. Participants will engage in strategies to develop their own writing practices and pedagogies, as well as consider ways writing can foster change.

NCTE21 Program Guide
Learn More
Just enter your name and email address in the form below.
Join 19,000+ Members of RTE's Newsletter
Are you ready to reThink your ELA teaching practices? Join my partners, thousands of subscribers and I for news, strategies, professional development opportunities, and resources.