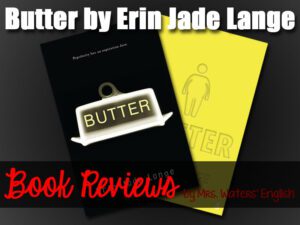 If you're looking for a novel to help your students step into the shoes of someone experiencing bullying, and the ups and downs of balancing life offline and online, then I highly recommend Butter by Erin Jade Lange
. I discovered this book a couple of weeks ago as I worked my way around my high school classroom, checking on student work, or answering questions. As I walked by one young lady's desk, the book she had sitting at the corner jumped out at me. No, not literally. And this is not unusual. I am frequently stopped in my tracks by the books students bring to my class. But this one was different.
I downloaded the book to my Kindle one evening, and couldn't put it down. The narrator grabbed my attention from the very beginning and didn't let go until the last word. Check it out for yourself:
As a morbidly obese high school student, Butter has already pegged everyone he knows, and he's not changing his mind:
I was pretty sure that even if I lived to be one hundred and five, I would never find anyone who would see past my massive outer layer and fall in love with the me underneath.
After experiencing cruel bullying at the hands of his classmates and unfair treatment by the world at large, he decides he's going to get their attention, and respect, once and for all: He's going to go online and "eat himself to death" on New Year's Eve.
His classmates are both repulsed and fascinated. His tormentors are intent on helping him carry out his plan — and basking in Butter's glory. Butter has to wonder: Do the guys really respect him now, or are they just interested in the show?
As it turns out, Butter enjoys his newfound fame so much, it almost makes him doubt whether or not he can carry out his plan.
You'll have to read this page turner to find out what happens.