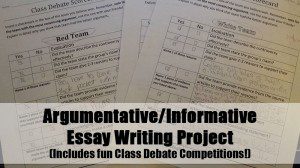 Getting students, particularly ones who already struggle with reading and writing, to write an argumentative essay can sometimes feel like herding cats. Handing them a random topic and expecting them to churn out an essay is not going to happen. This situation calls for a truck load of scaffolding.
That's not all. Students who are required to engage in process writing become better writers.
According to the National Center for Education Statistics, students of teachers who always encourage particular elements of process writing, such as planning and defining purpose and audience, brainstorming and organizing writing ahead of time, and spending time on multiple revisions and editing phases were found to be generally better writers than students of teachers who reportedly never encourage these activities.
With this in mind last year, I developed an essay writing project that included a list of highly engaging topics, links to resource articles, and graphic organizers to guide students through the process of collecting, digesting, and organizing information necessary to write an argumentative (or even an informative) essay.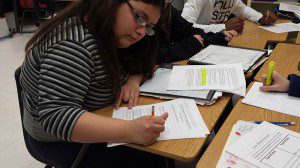 Argumentative/Informative Essay Project and Class Debate Competition is a project I designed to assist students in the prewriting stage of an essay project. At the beginning of the project, students can choose a topic that interests them from a student-created list. You can give them just a list of topics, and require them to find their own resources, give them the topic and resource list, or select a topic for them and give them the related resource articles. In other words, this project is highly differentiable.
Once students have organized and written their essays, they can work together to create debates for friendly classroom competition. I recommend that the winners receive free homework passes, candy, or whatever prize you think they'll covet enough to really go all-out in their projects.
This packet, which you can download from TeachersPayTeachers.com, includes:
Essay topics and article resources
Essay content organizer, instructions, and rubric
Sample essay content organizer (can be used to model the assignment for students)
Class debate competition instructions, organizer, and rubric
Download this argumentative essay graphic organizer to help your students become better writers.