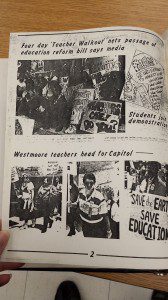 In spite of the fact that I have taken a personal day (that is a day I am allowed to take for any reason, per my contract), I am up at my normal time, preparing to take myself, my kids, one of their friends and a colleague to the state capital for my second education rally.
The first rally I attended in 1990 asked for passage of HB 1017, which increased teacher salaries and lowered class sizes, among other things.
I am excited to be a part of this effort on the part of Oklahoma teachers, parents and students to ask for a better future for our children.
That said, I can already see a disinformation campaign brewing in the media.
I have read many conversations regarding this rally from among my colleagues across the state. I am aware of the issues. This morning though, at 5:30, a reporter on KFOR interviewed a representative from the Oklahoma Council of Public Affairs, a state think tank, about whether or not it is a good expenditure of money for teachers to be paid to rally at the state capital.
Remember, I took a personal day off? Other schools are closing (taking what amounts to a snow day) to attend the rally. We are NOT being paid to be here. We are being paid for what we do every day in the class.
Did you notice the loaded question asked by the "reporter?" (Yes, those were snarky quote marks.)
I also have to question the interviewing of a OCPA representative about an education rally. Wouldn't it have made more sense to interview a school superintendent? Or the president of the Oklahoma Education Association? They are the ones who know how much is being spent (if any) for this rally and how it is impacting our schools.
While writing this article, I took a moment to find the OCPA website, to see what they are about. While there, right on the home page, I discovered this link to a report claiming that education spending in Oklahoma is at an all-time high. Interesting that this report is dated today…
Interesting that this is NOT what I see in my school.
UPDATE: A local business helped my kids' schools print flyers and t-shirts, which include the following breakdown of school financing: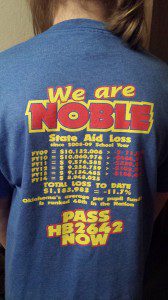 I also found a report in the Tulsa World stating that we rank 44th in per pupil spending. Interestingly, the Oklahoma Policy Institute reports that our per-pupil spending since 2008 has plummted 20 percent.
According to the report:
Total state appropriations for common education have fallen by $220 millionsince FY 2008. From 2009 to 2011, more than 4,000 jobs were lost from Oklahoma's elementary and secondary schools, according the the Bureau of Labor Statistics. The result is larger class sizes, fewer course offerings, and less support from librarians, counselors, special education specialists, and others.

The recession has thankfully ended and the economy is growing again, but cuts to schools have not stopped. Because schools received flat funding with increasing enrollment, spending per student declined by 1.7 percent, or $49, from FY 2012 to FY 2013.
This is what I see in my school, and this is why I will be at the state capital today.
I am taking pictures at the rally and will report on what I see there, along with a discussion of the issues, as I see them. If you'd like to read my comments, make sure you sign up to follow this site via your RSS reader (such as Feedly) or our email updates, which you can find in the right column.