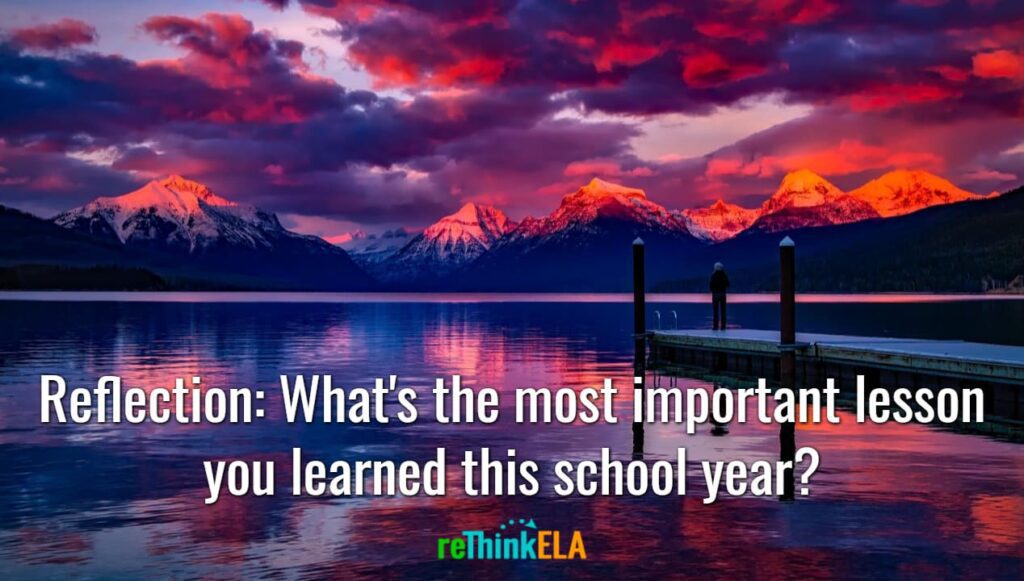 It seems fitting that this school year ended in 2020–a metaphoric reference to perfect sight, particularly in hindsight. It's been a year in which my eyes have been opened to many things, both personally and professionally, which means that I need to spend a lot of time reflecting on the epiphanies I've had and how I can apply those lessons to the future.
The school year ended for my district on Friday and I'm still working on providing feedback/grades for my students. I'm sure many of you are still teaching or doing the same. But in the back of my mind, as I'm sure in yours, too, I'm also pondering professional development for this summer and reflecting on this whole experience of just completely revamping everything I do within a very short time span.
On top of that, I'm sad right now because I didn't get to say goodbye and I didn't get to spend time reflecting with my kids and encouraging them in person before sending them off for the summer.
Reflection is one of the most important steps in the learning process–and it's one that's often skipped in favor of moving on to the next thing. But when you spend time reflecting with students, you can often uncover lessons you never even realized you taught and should focus on intentionally next time, or misconceptions that you need to correct. And that's just reflecting with the kids. When you spend time reflecting on how the lessons or unit went, you can make changes for next time that will help you be a more effective teacher.
I also know that one of the best sources of information I have on what I need to do to be a better teacher is the students who have spent 180+ days with me. So, at the end of the year, I always ask them a series of four reflective questions, often as part of their daily quickwrites. Since I didn't get to do that this year (Actually, perhaps I still could…), I thought I'd ask you two questions.
Perhaps in discussing the lessons we've learned this year, we can also learn from one another how to better reflect and how to implement what we've learned into future teaching.
What is the most important lesson you've learned this year related to (teaching) ELA?
What will you do differently next year as a result of this lesson?
Just reply in the comments below.