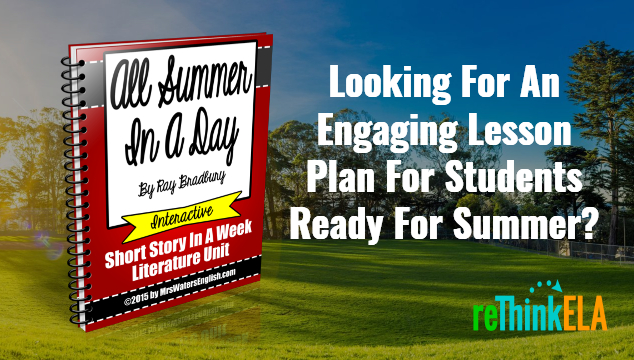 If your students are anything like mine, they're ready to be done. It's beautiful outside — when it's not raining or producing tornadoes here in Oklahoma — and everyone just wants to go outside. But we still have a few days of school left, and we might as well use them for learning, right? 
Why not make it a fun — and relevant reading and writing experience?
This unit has been one of my best sellers for the past three years on Teachers Pay Teachers and my site shop:  All Summer in a Day by Ray Bradbury: Short Story in a Week Literature Unit. It's complete with daily reading, discussion, and writing mini-projects, plus essay writing assignment featuring essential questions. 
Are you wanting to bring Ray Bradbury's "All Summer in a Day" alive for your students?
Go beyond just recognizing the elements of story and really delve into the meaning of the story — and how it's relevant to students today.
This unit contains everything you need to guide students through reading the story, responding to daily essential questions, planning and writing a culminating essay the encourages students to take a stand and back it up with information from the short story, non-fiction texts, video, and poetry.
Click here to see all the goodies I've included in the unit. If you'd rather buy it on TpT, check out my store here.