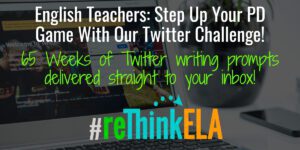 The new year is right around the corner, and I have made it my mission to post more on Twitter. 
Yes, I know.
If you have mobile notifications turned on for me, you probably think I'm nuts — particularly after I've blown up your phone on a Thursday (#reThinkELA chat) or Sunday (#OklaED chat) night.
I apologize.
That said, I'm talking about being more intentional in my postings, and developing a habit of posting more frequently — and at different times than just the 8 p.m. Sunday and Thursday flurries.
With this in mind, I created a 65 week #reThinkELA Twitter challenge. When you sign up for the challenge, you receive an email every week with a Twitter usage tip and a writing prompt. (Yes, this is a sneaky way for me to encourage teachers to write more. Hehe!)
This is a way for those of us who are very busy to take a minute and engage with our Professional Learning Network (PLN) on Twitter. It's also a way for those of you who are brand new to Twitter to get your feet wet a little bit at a time.
Sound like fun? Click here to learn more.