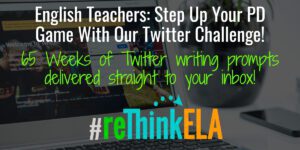 Yes, 65 weeks may sound daunting. But approach it just like you would eating an elephant — one bite at a time! (I hope you've heard that joke… If not, I'd just like to apologize now…)
So what's the #reThinkELA Twitter Challenge?
It's a fun and free way for you to connect with other English teachers around the world
It's a reminder to connect sent directly to your inbox once per week. 
Each email contains a Twitter usage tip plus a writing prompt.
In short, I send you an email once a week with a Twitter tip — and a writing prompt. All you have to do is login to Twitter from your phone or computer and respond to the prompt in 280 characters or less. Make sure you add the #reThinkELA hashtag.
Why should you participate in this challenge? I mean, you're a teacher. You have a boatload of tasks to complete already, many of them unfunded mandates from "above." Here's why. Because…
Connections can be powerful
Don't believe me? Consider this: I posted my response to the Week #6 writing prompt, and received this in response: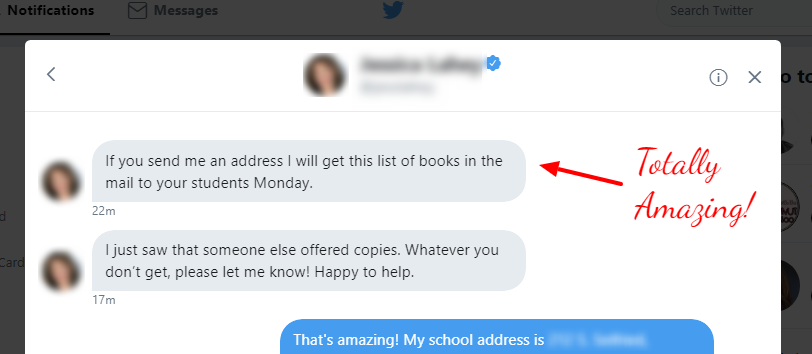 How amazing is that? One tweet, sent at 11 p.m., resulted in several donations to my classroom library! Talk about the positive power of my Twitter PLN.
You can do this, too.
All you have to do is login to your Twitter account, write your message in response to the prompt, and tag the message with #reThinkELA (no worries, capitalization does NOT matter in hashtags). Send your message, then see what other people have said. Even better follow other #reThinkELA challengers and start new conversations!
Over time, you'll see lots of different messages since people will sign up for the challenge at different times of the week and will be in different stages of the challenge. There will always be something to tweet about or reply to! Whether you're new to Twitter or a veteran that needs to get back into the game to reconnect with colleagues around the world, we've got you covered!
[maxbutton id="21″]
New to Twitter?
If you're new to Twitter, and this sounds overwhelming, don't worry about. Just take it one tweet at a time!
For those brand new, here is a video to help you sign up and build your new Twitter presence.
Please note:
As of October 2017, you can now write messages up to 280 characters in length.
Website addresses and photographs do not count against your message length.
Still unsure about Twitter?
Feel free to just save the #reThinkELA hashtag and check back with us frequently. You can learn from our community members and, when you're comfortable, you can reply to others and, later, start your own messages. Keep the emails we send, and you can always go back and respond to the prompts at your convenience.
[maxbutton id="21″]
Busy Twitter veteran?
Perhaps you used to tweet regularly, but then life happened. I know, I've been there. Since you signed up for this challenge, I'm going to assume it's safe to say you're interested in reconnecting, in engaging with and building your Twitter Professional Learning Network (PLN). I'm generally the kind of person who likes to slowly re-engage in social activities, but Twitter is a great place to just jump right in. With the #reThinkELA challenge, you'll be able to find other English teachers who can help you grow as a teacher.
That said, the reason you fell away from Twitter is probably because you were busy. Perhaps you were buried under a stack of 162 three-page essays. Or maybe "stuff" from your personal life limited your time for professional development. I completely understand, so I have included some ideas below to help you better manage your Twitter time.
The following video includes some advanced tips that may help you better manage your time.
Plus, I have a few tips that have helped me the most over time:
Twitter lists
Add people to lists so you can easily keep up with specific topics. For example, I have a list of Oklahoma Educators and a list of YA Authors/Literacy Leaders. For the record, you do NOT have to follow someone in order to add them to a list. If you don't know someone well enough to follow them, but you'd like to see what they have to say when you're updating yourself on a particular topic, you can just open up that list.
Twitter apps
If you have a smartphone (android or iPhone), you can download the official Twitter app (Google Play Store | iPhone App Store) so enable you to tweet wherever you have data or wifi. You can manage more than one Twitter account through the app, as well. 
Even better, you can download Hootsuite or TweetDeck (both which can be used with your PC) and use their app to easily follow your news feed, hashtags, and schedule tweets to be sent at a later date. I use this feature to schedule the questions that I send during scheduled chats (such as the 8 p.m. CST Thursday #reThinkELA chat) so that I can focus on replying to my community.
Twitter hashtags
In your browser, and on the mobile app, you can save hashtags so that you can easily go back and catch up on all the tweets on that topic.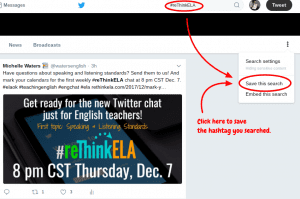 Have questions?
Login to your customer area and submit a helpdesk ticket with your question. We're teachers, but we'll answer your questions as soon as possible.
[maxbutton id="21″]