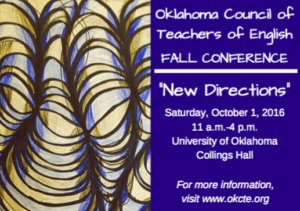 It may seem like I've fallen off the face of the planet. Actually, I just discovered the Hogwarts for writing teachers: Oklahoma Writing Project Summer Institute. After working with 22 other OWP fellows and coaches for three weeks, I feel my writing and teaching has been invigorated. I've written several poems and essays for a portfolio I created, and also developed a 90-minute and three-hour presentation that I'll sharing in the near future. But I digress.
As a result of my work at OWP, I am submitting a proposal to give my presentation at the Oklahoma Council of Teachers of English Fall Conference on October 1. I've already registered to attend, and I'd love to see you there.
Here's the sign up form:
OCTE presents a conference for teachers of English and reading that explores the multiplicity of literacies! This conference will feature keynote addresses by Dr. Rick Cobb, superintendent of Mid-Del Schools and author of the popular okeducationtruths blog; Ayn Grubb, Academic Coordinator for Tulsa Public Schools; and Shane Sanders, Dean of Students at Star Spencer High School.
You can also learn more about OCTE and submit your own proposals here.