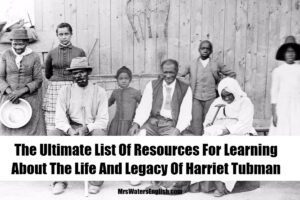 With Harriet Tubman about to take up residence on our $20 bills, this could not be a better time to learn more about the life and legacy of the Civil War Era abolitionist, freedom fighter, and former slave.
Here are some resources to help you on that journey:
Why Harriet Tubman was chosen for the $20 bill by ABC News
Harriet Tubman mini bio by The Biography Channel
What You Never Knew About Harriet Tubman by the Smithsonian Channel
America the Story of Us: Harriet Tubman by The History Channel
Articles
Primary Sources
Art
Interactive Resources
Websites
Lesson Plans
Social Media
Learn more about how you shaped the conversation about currency redesign: https://t.co/Y5V5t5Ho31 pic.twitter.com/U1Cs9sff2G

— Treasury Department (@USTreasury) April 21, 2016
Secretary Lew looks at a rendering of Harriet Tubman during a visit Thursday to the Bureau of Engraving and Printing pic.twitter.com/xhinAxhygG

— Treasury Department (@USTreasury) April 22, 2016
I am a secondary English Language Arts teacher, a University of Oklahoma student working on my Master's of Education in Instructional Leadership and Academic Curriculum with an concentration in English Education, and a NBPTS candidate. I am constantly seeking ways to amplify my students' voices and choices.