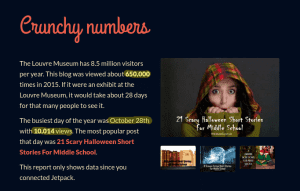 While I did not meet all of my goals in 2015, my blog performed better this year than it did last. For example, this blog last year received abut 130,000 views. This year, I've received about 650,000 views for a total of about 780,000 views since I started this blog in 2012. That's a 400% increase! And that just goes to show — if you stick with something, even when the going is slow, your efforts will be rewarded.
This is particularly true if you're trying to help others. Some of my work from previous years is still helping teachers around the world, and I am hoping to continue helping as much as possible as I start new projects in 2016. I'll share more about my plans for the year in a future post. But for right now, let's take peek back at 2015:
See the fireworks Mrs. Waters' English created by blogging on WordPress. Check out their 2015 annual report.