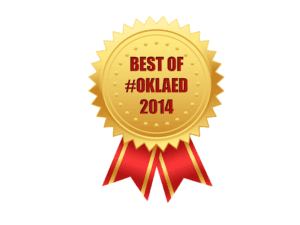 2014 #OklaEd Year In Review Blog Posts
I will continue updating this section as the Year In Review posts start rolling in…
Best #Oklaed Tweets
Here are the most retweeted and favorited tweets of #oklaed for this year.
This says it all: "Students who are loved at home, go to school to learn, and students who aren't, go to school to be loved." #tlap #oklaed

— Kevin Hime (@coach57) March 4, 2014
#OKEDRally speaks the truth. Largest cuts to public ed in the US: 22.8% pic.twitter.com/lG5kWtCncv

— Claudia Swisher (@ClaudiaSwisher) March 31, 2014
OVERRIDE HER! Gov. Fallin has vetoed HB2625 which would have provided for parent input in RSA retention matters. @CCOSA #oklaed

— Rob Miller (@jmsprincipal) May 20, 2014
: Good admins don't "control" their teachers anymore than teachers "control" their students. Good ones enable and empower #oklaed @tomwhitby

— Kevin Hime (@coach57) February 5, 2014
#oklaed RT @Primary_Ed: Growth mindset and the educator. pic.twitter.com/ASuqb0xn3y #Satchat #sunchat #edchat #edtech

— jason.james (@James409Jason) November 15, 2014
Top #Oklaed Tweeters
Below is a list of the most prolific Tweeters in Oklahoma Education
Angela Clark Little
Claudia Swisher
Scott Haselwood M.Ed
Jason James
John R. Walkup
Rick Cobb
Anne Beck
OKEducationTruths
Kevin Hime
Top #Oklaed Tweets
Here are a few select tweets from #oklaed this year.
My Top Tweets
Finally, here is a list of some of my top tweets this year. I started out very slow and without must interaction during the first six months, but picked up steam in August. I can't wait to see what happens next year!
Students need to know that learning is a journey, and teachers are guides. They must ultimately take the trip. #OklaEd

— Mrs. Waters (@watersenglish) August 11, 2014
A7 Ask the students to evaluate themselves periodically. Then compare your eval with theirs. #OklaEd

— Mrs. Waters (@watersenglish) August 11, 2014
A1 A letter alone does not tell the complete story about the community/admin/faculty of a school. #OklaEd

— Mrs. Waters (@watersenglish) August 25, 2014
A3 We must make becoming a teacher in OK more attractive: Better pay, higher respect. #OklaEd

— Mrs. Waters (@watersenglish) August 25, 2014
A3 I think an apprenticeship for teachers lasting 1-2 years, paid, would improve new teacher retention and effectiveness. #OklaEd

— Mrs. Waters (@watersenglish) August 25, 2014
How To Embed Grammar Instruction Into The Writing Process #elaok http://t.co/5khIAhPDaT http://t.co/Kd8GENeLL0

— Mrs. Waters (@watersenglish) September 1, 2014
The Oklahoma Educators Media Guide is available NOW. Download and send to your favorite education reporter! http://t.co/0zZDjIeO85 #oklaed

— Mrs. Waters (@watersenglish) September 8, 2014
A3 Sometimes, you might be the only positive, encouraging adult in a student's life. #OklaEd

— Mrs. Waters (@watersenglish) September 8, 2014
My students wrote book tweets using sticky notes, since we can't tweet in class. #1coolthing #OklaEd

— Mrs. Waters (@watersenglish) September 29, 2014
A1 T autonomy is the ability of Ts to do what they know is right for their students. #OklaEd

— Mrs. Waters (@watersenglish) October 6, 2014
A2 My school's grading software allows us to send email when I enter grades. Parents love this! #OklaEd

— Mrs. Waters (@watersenglish) October 13, 2014
We're playing The Grammar Games. May the words be ever in your favor… #1coolthing pic.twitter.com/4yMcGJ9Pxr

— Mrs. Waters (@watersenglish) October 13, 2014
A5) We need to help our parents use tools they need to share their stories with our leaders. #OklaEd

— Mrs. Waters (@watersenglish) November 3, 2014
A3 We absolutely should be able to count THIS Twitter chat as PD! #OklaEd

— Mrs. Waters (@watersenglish) November 24, 2014
A7 I think we need to add days for T reflection/PD/innovation, not instruction. #OklaEd

— Mrs. Waters (@watersenglish) December 8, 2014
I think much of the "outcome" we seek for our kids won't be seen for years, if not decades, after we have them in class. #OklaEd

— Mrs. Waters (@watersenglish) December 8, 2014