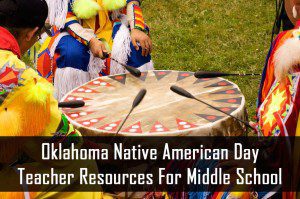 While November is Native American Heritage Month across the United States, Oklahoma has devoted a special day to celebrate our state's unique heritage on the third Monday of this month. This year, that Monday is Nov. 17.
As English teachers, we are in the unique position to provide a forum for Native American authors to tell their stories in our classes. Even if we don't have a local storyteller to invite personally into our classrooms, we can certainly highlight the literature, culture, and history of our local, and other, tribes on this day.
Below are some resources to help you plan lessons that will open your student's minds to the contributions made by American Indians today, and in our past:
Native American Literature
Prologue to The Way To Rainy Mountain by N. Scott Momaday — Pulitzer Prize winning author N. Scott Momaday is a Kiowa Indian born in Lawton, Oklahoma.
Poetry by Joy Harjo — Harjo is a a Tulsa native, poet, musician, and member of the Mvskoke Nation.
Lullaby — A short story of love and loss by author and poet Leslie Marmon Silko, a Laguna Pueblo tribe member from Albuquerque, New Mexico.
Poems by Simon Ortiz, Carter Revard, and Louise Erdrich — Ortiz is an Acoma Pueblo, Revard is an Osage Indian from Pawhuska, Oklahoma, and Louise is a member of the Chippewa tribe.
Native American Lesson Plans
American Indian Websites and Resources — Moore Public Schools has published an extensive collection of Native American teaching resources for students at all grade levels.
Indian Education Lesson Plans — The Oklahoma State Department of Education published this list of Indian education lesson plans.
Idea Book for Creating Units about American Indians — While this resource was produced by the Montana Office of Public Instruction, it includes general Native American historical and cultural information that can be incorporated into Oklahoma lesson plans.
Navajo Nation Lesson Plans — This site includes extensive resources on the Dine, the Navajo people, gathered by Clayton Long, Navajo Language Curriculum Designer and Bilingual Ed. Director for San Juan School District and Harold Carey a Navajo Historian and Photojournalist from Malad City, Idaho.
The Oklahoma legislature passed a law in 1998 declaring the third Monday in November as Oklahoma Native American Day. Oklahoma Department of Human Services Celebration Committee Chairman Wilson Seawright stated, "The bill invites all citizens of Oklahoma to devote some portion of Oklahoma Native American Day to commemorate the accomplishments of Oklahoma's Native Americans."
I am a secondary English Language Arts teacher, a University of Oklahoma student working on my Master's of Education in Instructional Leadership and Academic Curriculum with an concentration in English Education, and a NBPTS candidate. I am constantly seeking ways to amplify my students' voices and choices.