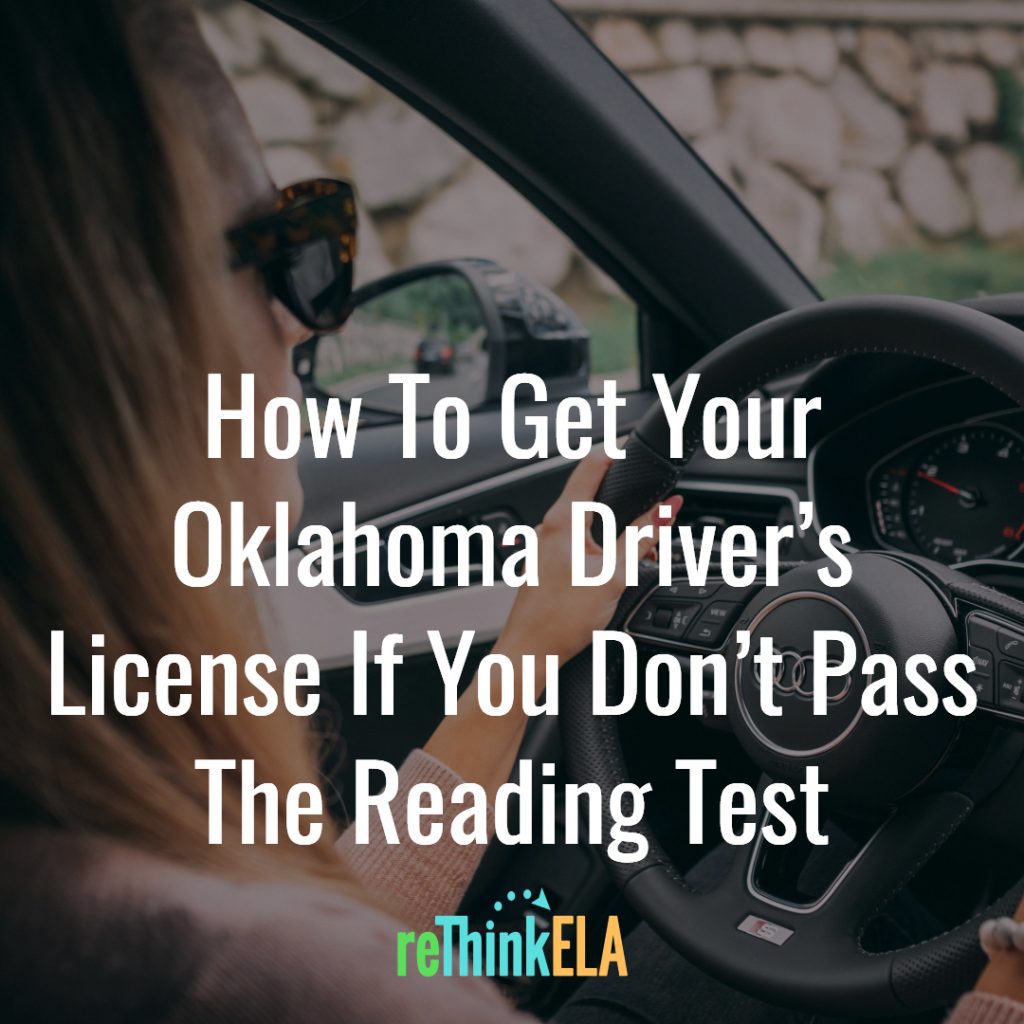 UPDATE 10/16/17
According to Joy Hofmeister on October 15:
"Actually, schools, principals and counselors were notified on the day results were made available that students who scored Basic and above satisfied state law. Students who scored Below Basic now have access to a free alternate tool among many others listed on OSDE website to satisfy state statute."
Additionally, high school students will no longer take a 10th grade English Language Arts state assessment. Instead, high school students will take the ACT at no charge their junior year.
But many of our students struggle with testing. I have students who have recently lost family members — some have been murdered, others lost via natural causes. What do you tell them when they can't concentrate enough to pass a reading test? I have students who have worked very hard this year. They have read oodles of stories and informational texts. They have written more essays than they ever thought possible. These students have brought their reading levels up two or more grade levels in one year. Unfortunately, for some of them, this only puts them at a fourth, fifth, or sixth grade reading level. What do I tell them when they don't pass the reading test?
You have options.
According to Oklahoma state law:
The student may either retake the reading portion of the state criterion-referenced test upon its administration the following year, or take an alternative reading proficiency test in order to satisfy the criteria for a driver license or permit.
Additionally:
School districts shall notify, in writing, each student who takes the reading portion of the state criterion-referenced test for the eighth grade or who takes an alternative reading proficiency test and the student's parent or legal guardian of the test results. If the student fails to perform satisfactorily on the test, the notice shall inform the student of the reading proficiency driver license requirement and the school's remediation plan for the student. Upon the student's successful completion of the test, the school shall furnish the student with the documentation needed for the driver license application in Oklahoma…
Basically, all of the legalese means that if you don't score high enough of the eighth grade reading OCCT, you can:
Your school should let you know if you need to worry about either of these options. If you don't hear anything in August or September of next year, contact your administration and request the results of your OCCT test. If those results show that you did not make the cut, then request remediation and an alternate reading proficiency test.
UPDATE: In the comments below, students and parents have asked what to do in cases where the student on an IEP or is not enrolled in a traditional public school. So I contacted the Oklahoma State Department of Education's English Language Arts/History Assessment Specialist Amy Nicar (Thank you, Josh Flores!), who sent the following information:
Public schools are required to offer enrolled as well as non-enrolled students who live within district boundaries opportunities to test. Schools must offer alternate tests at least four times per year. Call the local school district to see when the next available testing opportunity is scheduled. Students must actually take the test at a testing site.
In the case of students who are on an Individualized Education Plan (IEP):
The student must either: Score Proficient on the 8th grade test or alternate test, or if the student has an IEP in reading specifically, he must score satisfactorily according to the IEP's goals. If the student meets the goals rather than a Proficient score, alternate documentation must be provided for him to take to the place where he will be getting his driver's permit.
In either case, students must take the test at an approved testing facility:
Students must physically take the test at an approved testing site. Public schools, vo-tech schools, and community colleges are approved testing sites. For more alternative testing sites, see here for a list of locations.
If you have any additional questions, contact your local public school district. If you still have trouble, contact Amy Nicar directly.