The Bottle Imp by Robert Louis Stevenson is a short story in which the main character buys a bottle with an imp inside that grants wishes. However, the bottle is cursed; if the holder dies bearing it, his or her soul is forfeit to hell.
Note: This story may be more appropriate for 10-12th grades. A story that may be more suited to middle or early high school is The Monkey's Paw by W.W. Jacobs.
Download a copy of the story from the column on the right.
Play the audio while students follow along to help them comprehend the text.
You can access the video directly on YouTube here: https://youtu.be/2aAKz8ZhfIY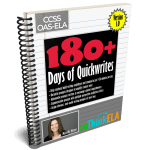 Build Student Writing Confidence & Stamina All Year Long!
Not only will you have the first five to 20 minutes of class taken care of, you can also extend each mode of writing into a longer text by guiding students through the writing process. Students will build writing stamina and confidence throughout the year.