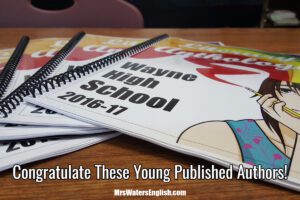 The first annual Wayne High School literary anthology is now available online!
I encouraged all my students to write every day this year, and often "battled" students who don't see the point, and don't enjoy the process. But not only did all of them show significant improvement in their ability to write, 15 students chose to submit their writing to contests sponsored by the Oklahoma Writing Project, Oklahoma Council of Teachers of English, and a couple of other organizations. Three of our students won at the OWP contest and one at OCTE!
I am so proud of all of them.
Everyone who entered automatically qualified to have their writing published in our first annual anthology, which you can download and read below:
[prettyfilelink size="1 MB" src="https://www.rethinkela.com/wp-content/uploads/2017/05/WHSLiteraryAnthology2016-17-FINAL.pdf" type="pdf"]Wayne High School Anthology[/prettyfilelink]