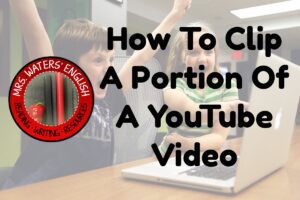 If you've tried to use some of the commercial or song videos that I've recommended in previous articles, you may realize that some of them a a bit longer than they need to be or include too much preface before the meat of the video. Thanks to Free Technology for Teachers, we now have a solution for that problem. Check it out here:
Online videos can be quite useful for reiterating a lesson to your students, for inspiring thought and conversation, and for introducing a new concept to your students. The struggle we have sometimes is finding a video that gets to the point quickly.
I am a secondary English Language Arts teacher, a University of Oklahoma student working on my Master's of Education in Instructional Leadership and Academic Curriculum with an concentration in English Education, and a NBPTS candidate. I am constantly seeking ways to amplify my students' voices and choices.