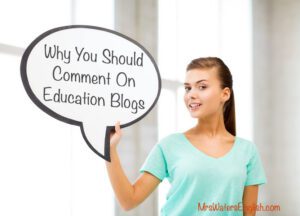 One of the things I've noticed in the education blogosphere is that — with the exception of very well-known blogs — not a lot of people are commenting. True, teachers are very busy. Additionally, it's a dangerous time to put yourself out there these days.
But consider: In order to build our online PLCs, the communities we need in order to grow and survive as teachers, we need to collaborate and converse with one another.
The best way to do this online is through blog commenting. Basically, this means that you write a comment, usually below the post, leaving your name or username, and your website address. Your comment fosters conversation, which enables other readers to learn, and also to contribute their thoughts.
Here are a few more reasons to comment on blogs:
1. It's the right thing to do.
Teaching can already be a thankless job in the current political and social climate. Unlike business bloggers, teachers are being attacked from all directions (or so it seems some days). Teachers need to stick together, to support one another in our endeavors to reflect, to grow, and to survive.
 2. Make friends and influence people
Blog authors will notice you if you're commenting on their blogs. If you're asking great questions, adding unique perspectives to their commentary, they will enjoy your presence and conversing with your.
3. Get known, liked, and trusted — on your site
By contributing to the conversation elsewhere, you are encouraging others to check out your website, and see what you have to say. One of the hardest things to do as a blogger is get others to comment on your website. By reaching out first, you'll make it much more likely that readers will reciprocate.  And this could even lead to a cross blog conversation.
4. Practice the critical thinking that you're teaching
Yes, you should practice what you preach. By reading critically, and looking for something to add to the conversation, you are training your brain to be a better blogger. Not to mention, I'm sure you're encouraging your students to ask good questions, to contribute their own connections to the conversation in class. You should be doing the same.
5. Improve your own blogging
Pay attention to the types of posts you like to comment on, and the ones that get the most comments on other teacher's blogs. These are the types of posts you need to be including on your blog, provided they are appropriate for your audience and purpose. (In other words, as an English teacher, I would not write a blog post on the Top 10 Tips For Teaching Quadratic Equations, even if another teacher blogger has a bazillion comments on a similar post on her blog.)
Additionally, what you've written in your comment could be expanded into a blog post on your site, with a link to the other blogger's post. There is nothing like linking to another blogger's site to encourage that author to link back to you.
6. Find new education friends
As you read comments, and contribute to the conversation, other people get to know you. Those people then head over to your site to see what you have to say…
7. You scratch my back…
…and then they comment on your site. It's a win, win, right?
8. Explore fresh ideas
Asking questions or contributing your perspectives on a blog can open up a conversation that results in ideas or attitudes you did not even know about, or were only vaguely familiar with. What a great way to explore new ideas and fresh concepts!
Consider these 8 reasons to comment on other educator's blogs.
Then you're welcome to practice commenting right here on this post!
NOTE: Read the next post in this series, which explains how to write a great comment. If you're new to commenting, or you just want to make sure you're doing it right, be sure to follow my teacher entrepreneur blog.