The Mortal Immortals by Mary Shelley is a short story by the author of Frankenstein about a man who drinks an elixir that makes him immortal. At first, he thinks that immortality promises him eternal happiness. However, it soon becomes clear that he is cursed to endure eternal psychological torture as everyone he loves dies.
Download a copy of the story from the column on the right.
Jennifer Gill reads aloud the short story. Great for the whole class to listen to as they follow along or for individual students who struggle staying focused on a text.
You can access the video directly on YouTube here: https://youtu.be/_WsZsHGdC5k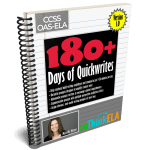 Build Student Writing Confidence & Stamina All Year Long!
Not only will you have the first five to 20 minutes of class taken care of, you can also extend each mode of writing into a longer text by guiding students through the writing process. Students will build writing stamina and confidence throughout the year.