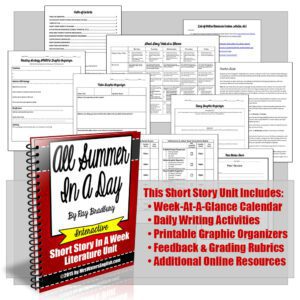 If you're looking for a depth of knowledge level four writing project coupled with a relevant short story for middle school students, I have a bundle for you!
I just finished uploading my first major Teachers Pay Teachers product: All Summer in a Day by Ray Bradbury: Short Story in a Week Literature Unit. It's complete with daily reading, discussion, and writing mini-projects, plus essay writing assignment featuring essential questions.
Are you wanting to bring Ray Bradbury's "All Summer in a Day" alive for your students?
Go beyond just recognizing the elements of story and really delve into the meaning of the story — and how it's relevant to students today.
This unit contains everything you need to guide students through reading the story, responding to daily essential questions, planning and writing a culminating essay the encourages students to take a stand and back it up with information from the short story, non-fiction texts, video, and poetry.
Click here to see all the goodies I've included in the unit.