The Tomb by H.P. Lovecraft is a short story about a young boy who felt since he was a child that he could see things other people can't see, and no one believes him. One day after he becomes an adult, he claims he finds a tomb, which he enters and discovers his own name on the coffin.  Has he lived another life before or is he just insane?
Download a copy of the story from the column on the right.
Students may listen to audio during reading the story to aid in comprehending the text.
You can access the video directly on YouTube here: https://youtu.be/aD3h_3S77uM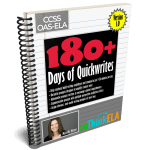 Build Student Writing Confidence & Stamina All Year Long!
Not only will you have the first five to 20 minutes of class taken care of, you can also extend each mode of writing into a longer text by guiding students through the writing process. Students will build writing stamina and confidence throughout the year.