A Monkey's Paw by W.W. Jacobs is a short story of supernatural suspense featuring a magical artifact that can grant three wishes to three people. The characters quickly learn in the story that getting what you want often costs you greatly.
Download a copy of the story from the column on the right. 
Show the video adaptation before reading the story to help students comprehend the text or after reading to discuss how they envisioned the story versus the decisions made by the director and actors.
You can access the video directly on YouTube here: https://youtu.be/ugjegclLNhM
Narrated by Peter Bishop, Jacob's classic 1902 tale of the supernatural is about the owner of a magical monkey's paw who is gifted (or perhaps cursed?) with three wishes, only to find that those desires, once manifested, come with an enormous price. This audio adaptation is great for the whole class to listen to as they follow along or for individual students who struggle staying focused on a text.
You can access the video directly on YouTube here: https://youtu.be/NmYDQcaB2c8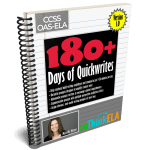 Build Student Writing Confidence & Stamina All Year Long!
Not only will you have the first five to 20 minutes of class taken care of, you can also extend each mode of writing into a longer text by guiding students through the writing process. Students will build writing stamina and confidence throughout the year.