Names/Nombres by Julia Alvarez is a personal narrative essay in which the author combines several personal experiences to drive home a central theme — that a person's name is integral to one's identity.
Download a copy of the story from the column on the right.
The video to the left does not contain any imagery, but can be used to help students who need to listen to the story as they follow along in the text.
You can access the video directly on YouTube here: https://www.youtube.com/watch?v=aLA1APpe2HI
Names/Nombres Vocabulary In Context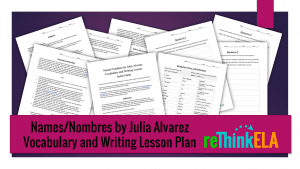 Help students internalize the meaning of new words through reading and their own writing. Download this lesson plan now!