The Legend of Sleepy Hollow by Washington Irving is a an classic example of one of the first American horror stories. It's perfect to share with students during Halloween. Written in 1820, the language can seem archaic, so it may be a good idea to scaffold student reading comprehension by showing one of the videos below before reading the short story itself.
Download a copy of the story from the column on the right.
Listen to the audio narration as students follow along in the text to help improve their comprehension.
You can access the video directly on YouTube here: https://youtu.be/6BOYRr48GFY
Share this video adaptation to help students gain a better understanding of the movie. Can be shown to students before tackling the text to help them envision what will happen in the story, or shown after the text as a lead-in to a discussion analyzing what students imagined as they read and the choices the director made.
You can access the video directly on YouTube here: https://youtu.be/FHc7_QRUhBQ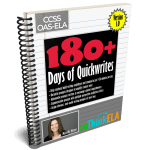 Build Student Writing Confidence & Stamina All Year Long!
Not only will you have the first five to 20 minutes of class taken care of, you can also extend each mode of writing into a longer text by guiding students through the writing process. Students will build writing stamina and confidence throughout the year.