Harrison Bergeron by Kurt Vonnegut, Jr. is a short story that takes ensuring everyone is equal to a logical conclusion — forcing everyone to be equal through the use of handicaps. What happens when someone decides to resist this system?
Download a copy of the story from the column on the right.
Show the video adaptation before reading the story to help students comprehend the text or after reading to discuss how they envisioned the story versus the decisions made by the director and actors.
You can access the video directly on YouTube here: https://youtu.be/nBnwqmJdrsU
Little Brother by Cory Doctorow is a novel in which Marcus, a.k.a "w1n5t0n," is only seventeen years old, but he figures he already knows how the system works–and how to work the system. Smart, fast, and wise to the ways of the networked world, he has no trouble outwitting his high school's intrusive but clumsy surveillance systems.
But his whole world changes when he and his friends find themselves caught in the aftermath of a major terrorist attack on San Francisco. In the wrong place at the wrong time, Marcus and his crew are apprehended by the Department of Homeland Security and whisked away to a secret prison where they're mercilessly interrogated for days.
When the DHS finally releases them, Marcus discovers that his city has become a police state where every citizen is treated like a potential terrorist. He knows that no one will believe his story, which leaves him only one option: to take down the DHS himself.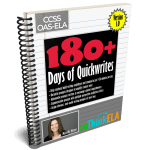 Build Student Writing Confidence & Stamina All Year Long!
Not only will you have the first five to 20 minutes of class taken care of, you can also extend each mode of writing into a longer text by guiding students through the writing process. Students will build writing stamina and confidence throughout the year.