In this age of high stakes multiple choice testing, writing in secondary classrooms has almost become a lost art. Thanks to programs like the Oklahoma Writing Project, which is a site of the National Writing Project established in 1978, teachers from many disciplines are learning how to bring this art back to their students. 
The purpose of the quickwrites is to enable students to practice writing on a daily basis, help students find ways to overcome writer's block, build up students' writing stamina, give students the opportunity to share their ideas in a safe environment, and provide students with a supply of ideas to choose from when faced with a full-length essay assignment. 
I never grade quickwrites themselves. I periodically (never more than once per week) give students a participation grade for completing the quickwrites.
I give my students a writing prompt each day. I frequently give them narrative, expository, or argumentative prompts, but also sometimes allow them to write about anything they want (which is interesting, because some students almost demand time to write about what they want, and others are completely lost when presented with the opportunity). My goal towards the end of this semester is to give my older students the opportunity to choose their own quickwrite prompts and topics.
Here is how quickwriting works:
After the bell rings, students write for five minutes. I give students a two minute warning before time is up so they can either wrap up what they are saying — or get started writing for real.
After time is up (I watch the clock or use an alarm on my phone or a five minute timer on YouTube), I ask students to share with a table partner.  (I say something like "Go ahead and finish up that sentence, then share with your table partners.") Everyone participates, even though I don't grade them all, which I believe is because they immediately publish their work as soon as they finish writing.
After students share for a few minutes, I ask for volunteers to share with the class. Students can volunteer themselves or "voluntold" someone else (who is allowed to decline). Students stand up, and I encourage them to read loudly enough for all to hear, and to read with confidence.
I also participate in quickwrite time. Not only does this give me an opportunity to model quickwriting for my students, but also demonstrates the importance of the activity. Also, if I have no volunteers to share to the class, I can share mine. I knew this was working the day a student stated aloud in class that he knew I understood what my students are experiencing because I was completing the assignments right beside them.
These quickwrites have given me the opportunity to get to know my students better, them the ability to express their thoughts and feelings in writing, and all of us the opportunity to share and publish our work. Ultimately, my goal is to help my students realize they're are writers and that they have the tools and power to share their stories.
First Five Days of Quickwrites
Copy the following quickwrites onto your board each day or copy the Google slideshow to your Google account and display the slide of your choice each day. 
Students can respond in a composition book, a spiral notebook, a binder, or a Google Doc.
What are your overall academic goals for this school year?
What are your goals for this class in particular?
Once you've written out your goals, make a list (for each question above) of at least five steps you can take each day to reach those goals.
This prompt should keep most students writing for the entire five minutes. If someone stops early, go read what they've written and ask them questions to help them extend their answers.
What do you want to learn about literacy (reading and writing) this year?
Think about your relationship with each of these activities in the past, and how you feel about them presently.
What do you see in your future?
What do you want to learn about yourself this year?
Encourage students to think in terms of academics (your class or other classes), extracurricular activities, or personal activies or elements of their lives.
What are the qualities that you need in a teacher?
Explain to your students that you want to be the best teacher you can for them and you need their help knowing what they need. An example could be that some students need teachers to explain things in different ways if they first explanation doesn't make sense to them.
Describe a time in which you enjoyed learning something. (It does not have to be in school.)
Explain that students learn in different ways and you want to learn how they enjoy learning so that you can incorporate that learning style or interest into your class.
I couldn't resist giving you another quickwrite to help you learn more about your students!
What is one BIG question you have for this year?
Talk with your students about the subject of your class. Then encourage them to ask what it is they want to be sure to learn in your class this year.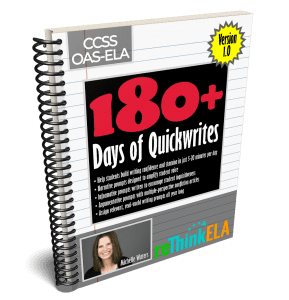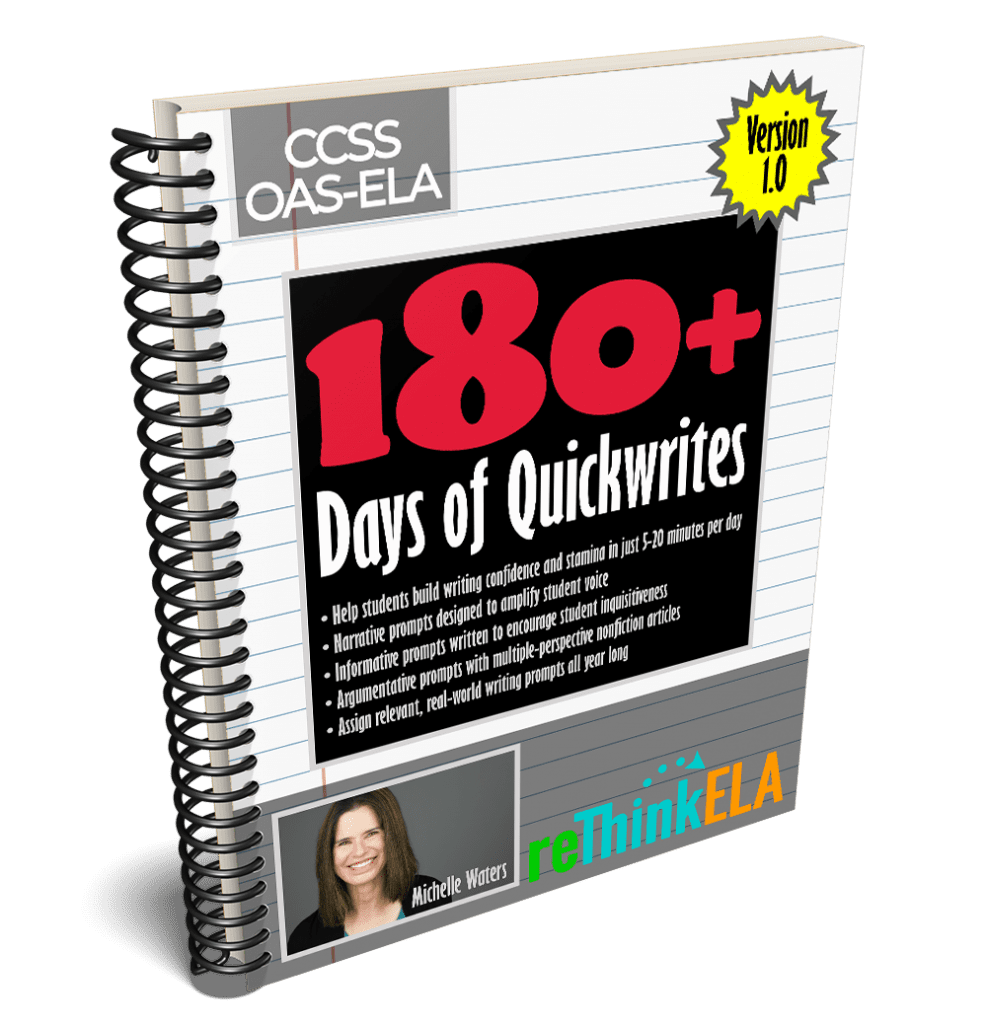 Need quickwrite ideas for the entire school year? You could spend hours scouring the Internet looking for ideas. Instead, we've done the work for you. Just click the Order Now button to access more than enough quickwrites for a school year. Or click learn more to find out how this resource will help you build confidence and stamina in your student writers.