Check out our Teacher Blog Grant Contest below…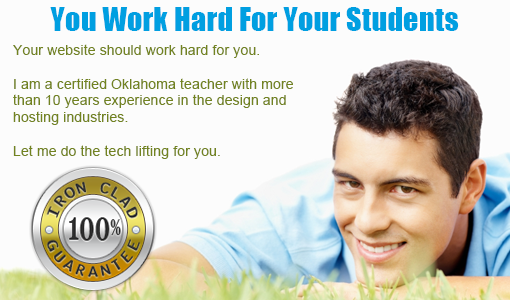 With more than 10 years experience in WordPress web design, I've developed resources, honed skills and created partnerships that you'll benefit from as I'm building your website. My focus has always been on building websites that work. Your colleagues and readers will be able to find who you are and what you're doing. When it comes down to it, your site will be like your best teacher assistant. You'll tell it what to do and it will just work!
My websites are designed to showcase the content your readers need. After all, you want your readers talking about your awesome blog posts, not how pretty your website is.
Design Process
I offer a free 30-minute consultation to web design prospects, during which we'll will work together to determine which of our services will best suit your needs. I will then send you a contract that clearly spells out the terms of our agreement and the specific tasks I will complete as part of your project.
Once I receive the signed contract, payment and the materials needed to start the project, I'll begin work.
If you have ordered a site design or design customization, I will provide one concept based on the information you provide during our consultation. I'll also provide up to two rounds of design revisions to the initial concept to insure that you receive the design that will best showcase your teaching expertise.
Once you sign the final approvals, I'll hand over the keys to your brand new website!
So, if you want a website that actually works, take a look at our packages.
All packages include:
One hour scheduled website coaching via Skype or phone
Mobile responsive premium theme
Free content management system, built with a powerful WordPress engine
ETG Core Plugins

Comment spam control
Coming Soon page– serve your readers before your site is even ready
WordPress SEO — optimize your site as you build it so your readers can find you via Google and other search engines
Sitemaps — automatically generate a sitemap for search engines
Social — automatically update your social networks when you post

Sidekick training walkthroughs
Basic WordPress site — $500
Install WordPress with ETG modifications for simplicity
Install premium theme (theme license fee included!)
Create custom site header
Modify site colors to match header, via CSS
Install ETG core plugins
Request Basic WordPress site setup
Recommended Web Hosting
Advanced WordPress site — $1,000
Install WordPress
Install premium theme
Customize theme, including header graphic, CSS, layout modifications via CSS or plugin
Install ETG core plugins
Install choice of one advanced plugin:

Mailing List Integration (limited)
Photo Gallery
Ecommerce Integration
Your Choice*

Configure advanced plugin
Two 1-hour coaching sessions
Enter To Win Our WordPress Blog Contest For Teachers!
As a teacher, I understand how tight money can be. I'm sure you want to pay your web designer what she's worth, but when you're living from monthly paycheck to monthly paycheck, it's very hard to do. I also know that teachers need to be heard, and they need to have a platform on which to tell their stories. I strongly believe that if enough of us shout from the rooftops, people will listen. For this reason, I am offering a limited number of $500 grants for a WordPress blog design and coaching*. I am looking for teachers who have a clear vision of their online purpose, and who are committed to building a personal teaching brand online (like one client, who is branding herself as Running Through Elementary), and who want to grow their website beyond the walls of their school, the borders of their state, and even the borders of their nation. If this describes you, please click the link below to fill out our application. You will be notified within 30 days if your application has been accepted.**
*You will need to provide your own hosting account. I highly recommend Reliable Webs. I have personally used their services for more than five years. Scott and Kelly have been amazing service providers the entire time. They live up to the standard I set for myself when I ran a web hosting company. They are well worth the monthly payment. That said, if you can't swing $13 per month, try HostGator. At HostGator, use the coupon code MRSWATERSENGLISH for 25 percent off your first payment!
**If you are chosen as the contest winner, you will receive an email notification, and I will announce on my blog when I have chosen a winner. I am currently choosing up to 1 winner per month. You are welcome to rework your application and submit again if you're not chosen.
Ala Cart Services
Sometimes you just need a plugin installed or a small tweak to your theme. Our ala cart services offer just what you need. If you can't find what you're looking for, contact us and we'll send you a quote.
WordPress Theme Customization — $300
One 30-minute theme choice consultation
Customize existing WordPress theme (free or premium theme)
Your choice of StudioPress theme included
Create custom header
Customize existing CSS file
Layout modification as needed
Install customized theme
Request WordPress theme customization
Facebook Page Setup And Customization — $50
If you haven't setup a Facebook page for your blog (or customized the one you have), you're missing out on an opportunity to connect with your members and prospects where they're at. As part of this package, we'll provide a 30-minute consultation to find out what your goals are, then setup your page, create a custom welcome tab, add application, add content to the left sidebar and more.
30-minute consultation
Facebook page setup
Basic application integration
Blog RSS feed addition
Your blog logo added to page
Add fan box widget to your site (optional)
Link to your website and back to your Facebook page
Initial Facebook page promotion
Request Facebook page setup and customization
Website Conversion — Request Quote
In today's world, you need a website that's more powerful than what static pages or offline content management systems can offer. Contact us for a quote and we can work with you to get your website converted to WordPress at an affordable price.
Ongoing Services
WordPress & Plugin Updates — $15/mo.
WordPress updates frequently every year. Some updates are security fixes while others introduce new features or repair bugs in existing functions. On top of that, each plugin must update regularly to remain functional. Tech Geeks keeps up with all the updates and verifies that each update is compatible with your current version of WordPress. Let us take care of the updates for you!
WordPress site management — 5 hours per month — $50/mo
Post scheduling in advance (you provide the content)
Page content addition (24 hour turnaround time M-F)
Image editing and uploading
Monthly plugin, theme and WordPress upgrades
Recurring billing
Request site management package