A Sound of Thunder by Ray Bradbury is a short story that illustrates how even our seemingly smallest decisions and actions can have a huge impact on our lives. Such an important lesson to learn for our teenagers!
Download a copy of the story from the column on the right.
Show the video adaptation before reading the story to help students comprehend the text or after reading to discuss how they envisioned the story versus the decisions made by the director and actors.
You can access the video directly on YouTube here: https://youtu.be/UMrBMTglPxc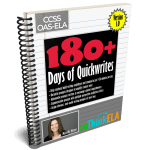 Build Student Writing Confidence & Stamina All Year Long!
Not only will you have the first five to 20 minutes of class taken care of, you can also extend each mode of writing into a longer text by guiding students through the writing process. Students will build writing stamina and confidence throughout the year.